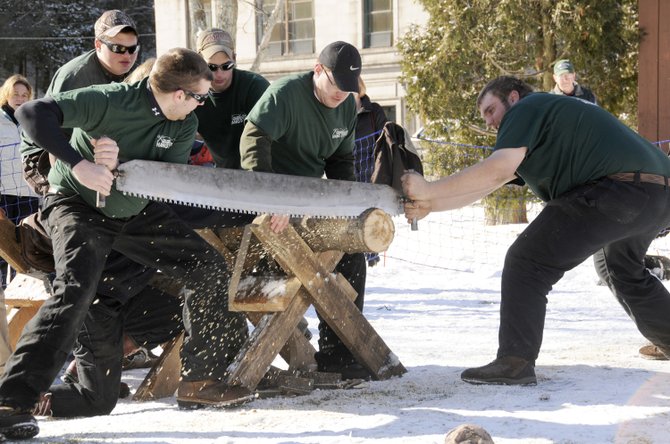 Saranac Lake — While carnivals in the tamer, less hardy parts of the country tend to feature innocuous demonstrations like baton twirling and juggling, North County folks are cut from a sturdier cloth and prefer to take their festivities with a flash of blue steel and glimpse of danger.
"Some schools have basketball or football," said Brett McLeod, an associate professor of forestry at Paul Smith's College. "This is what we have."
McLeod is referring to the school's woodsman team, the intercollegiate sport that pulls together skills like axe throwing, wood splitting and crosscut sawing with a competitive spin.
The Paul Smith's College Woodsmen will demonstrate these, among other skills in two hour-long exhibitions, one on each Saturday of the Saranac Lake Winter Carnival at 11 a.m. in Riverside Park.
"It's a lot like rodeo in that it's one of the few sports that came out of the work that men did," said McLeod. "There's a practical purpose to it — how fast could you cut a tree down and roll a log, for example — that comes right out of the logging camps."
As loggers grew more adept at lightning-quick piecework, said McLeod, these skills gradually evolved into a competitive slate.
Paul Smith's has had a team since 1947 and according to the school's website, they lay claim to having the longest winning streak in the history of intercollegiate lumberjack sports, winning the Super Bowl of lumberjacking, known as the Spring Meet, from 1957-1966.
The demonstrations at the Winter Carnival will include speed cutting, said McLeod, who is the team's head coach, but an emphasis will be placed on traditional lumberjack sports like speed-chopping, sawing, axe throwing, speed climbing and log rolling.
One of the most popular and dangerous sports is the underhand chop, said McLeod. It simulates the days when a felled tree had to be cut into manageable links with saws.
(Continued on Next Page)
Prev Next
Vote on this Story by clicking on the Icon