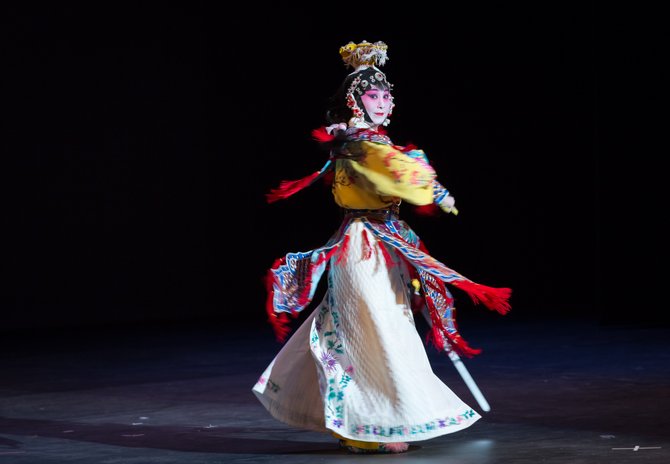 Plattsburgh — While the holidays may be in the rearview for most North Country residents, for a fifth of the world's population, the new year's clock won't click over until midnight on Saturday, Feb. 1 with the Spring Festival, known more commonly in the West as "Chinese New Year," a dazzling half-month celebration that sees much of East Asia grind to a halt as families assemble to give thanks and cross their fingers for increased fortune in the upcoming lunar year.
Think of it like Thanksgiving, Christmas and New Year's Day rolled into one savory, fennel-filled dumpling, the holiday's staple culinary item.
Local residents will be given an opportunity to experience the world's most widely-celebrated holiday — it's celebrated across the region, from Greater China to the Philippines and the homes of the estimated 50,000,000 Chinese who live overseas — with a special performance of Beijing opera, the hallowed form of theatre that combines elements of acrobatics, singing, miming and other vocal performances — including a banter-type routine called "crosstalk" — at SUNY Plattsburgh by the Confucius Institute of Chinese Opera (CICO), a Binghamton University-based nonprofit organization designed to spread Chinese culture and good tidings throughout the world.
The performance, "Amazing China," will feature a slate of world-class professionals by the only performance group in the United States that features Beijing opera.
"When the horse arrives, success will follow," said Hong Zhang, a member of Binghamton University's Chinese Department and the music professor who is the country's leading expert in teaching Mandarin Chinese through singing, on the importance of the upcoming year and its corresponding zodiac animal.
"The New Year is the most important festival for Chinese people," she said. "People like the horse year because horses are such good animals — they are loyal and run fast."
Like with Christmas and Thanksgiving, the Spring Festival comes with its own unique set of traditions.
(Continued on Next Page)
Prev Next
Vote on this Story by clicking on the Icon