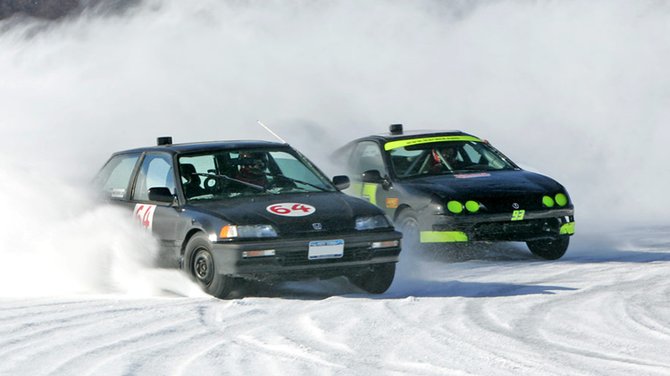 continued — According to AMEC, race day will consist of registration for all competitors and workers, a short practice session to allow all racers to become familiar with the track layout, and a series of races consisting of varying classes of cars racing against one another. The day concludes with a Finale Race.
The first race will consist of Street Legal Unstudded class racers in a 20 minute sprint race, street driven entries with minimal preparation to compete. The next 20 minute heat race consists of four cylinder, front wheel drive cars with up to two liter engines. The other set of heat races will consist of the All Wheel Drive [AWD], C Class [GTO], B Class [Modified] and A Class [Super Modified] cars. The Class A Super Modifieds are the fastest cars competing and are usually custom built tube chassis cars with very extensive modifications to both the suspensions and the engine. Open Class follows, designed for the second driver of any of the normal class racers, with two more Street Legal class races and then the Finale Race.
For more information on the AMEC races, visit the website icerace.com.
Vote on this Story by clicking on the Icon