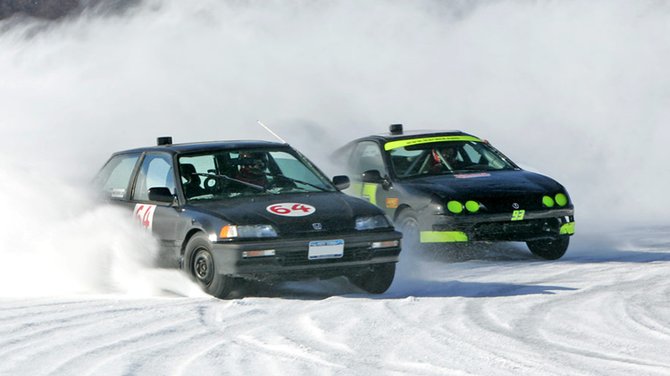 Tupper Lake — It could be called NASCAR on ice.
The Adirondack Motor Enthusiast Club (AMEC) is scheduled to bring automotive ice racing to Tupper Lake for the fourth time in their 60 year history this weekend, Jan. 25-26.
Dave Burnham of AMEC said the group races six classes of cars on approximately .75 to 1.3-mile road courses from mid-January until early March.
"We race all over the Adirondacks, mostly in the southern end," Burnham said. "We have run three times over the past four years in Tupper Lake and they have a great setup there. We are hoping for a good car turnout and the town really goes all out for us while we are there."
Burnham said there needs to be 12 inches of ice on the lake in order to conduct the races which should not be a problem given the current ice conditions and anticipated cold snap in the days leading up to the event.
Still, conditions are monitored throughout the day.
"We will plow the track out to begin but we will also change the track depending on how well the ice is holding," Burnham said.
Early heat races are timed, with most races having a 20 minute clock.
"We use that time to determine how many laps to make the heat races," Burnham said. "Then we will run laps for the rest of the races with the longest race at the end of the day as the feature event."
AMEC opened their season last weekend on Caroga Lake with six races held. Burnham said that there can be as many as 10 races in a weekend depending upon turnout.
After Tupper Lake, the racing season continued with stops at Warners Lake in Berne and at the Lake George Winter Carnival.
Burnham said spectators and competitors should always call ahead or check in before going to an event. Due to weather and ice thickness, locations of events can change at the last minute.
(Continued on Next Page)
Prev Next
Vote on this Story by clicking on the Icon