"Too much sun after a Syracuse winter does strange things to your head, makes you feel strong, even if you aren't."
— Laurie Halse Anderson, Speak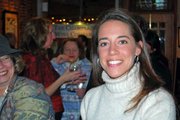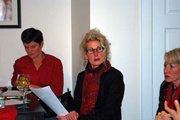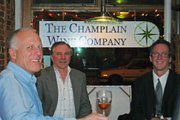 Whether one winters in Syracuse or Plattsburgh, thriving in winter does make one heartier. Chasing away the winter blues is tough with the cold, the ice, and the dark, however; The Winter Series has been a welcome solution to gather ideas, inform ourselves and share some great local wine, advice, and many laughs.
Grab a friend or even more daring; come by yourself and be open to meeting some new people and hearing some sound advice from our local wellness experts. Some of our area experts have shared their expertise to help each of us enjoy and "grow strong" during the winter months.
Janine Meads, skin care expert and Arbonne Representative, shared some of her beautiful products and recommended daily moisturizing and wearing sunscreen year round to keep our skin at it's best. Janine also shared that one of the favorite ways to warm up after a day outdoors is a long, steamy, hot shower. While this warms the soul, it dries the skin and ages us prematurely. A warm shower followed by a good moisturizer is the best way to keep skin healthy and youthful.
Elizabeth Pearl, Physical Therapist and owner of Pearl Physical Therapy and Wellness on Court Street in Plattsburgh brought along Stacy Herron, a staff PT, and presented simple, practical, and purposeful ways to stay fit and strong. As we move through life, we often experience injury, both physical and emotional. These hurts stay within our bodies and present as injury. Pain is not a natural response to movement; bodies are not meant to hurt. This simple thought has the power to be life changing. We often accept pain or discomfort as a natural part of aging, this does not have to be so. Elizabeth, and audience members, shared great advice on how to stay active.
(Continued on Next Page)
Prev Next
Vote on this Story by clicking on the Icon