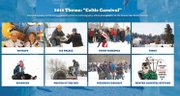 Saranac Lake — The Saranac Lake Winter Carnival Committee recently launched the new website for the Saranac Lake Winter Carnival. The website address is saranaclakewintercarnival.com.
The website address remains the same, but the website underwent a complete redesign by Adworkshop in Lake Placid. The new website includes a photo gallery, sporting event listing and other detailed information about Winter Carnival.
"We wanted a high-quality website, and we got one thanks to the talented team at Adworkshop," said Andy Flynn, who worked with Caroleigh Meserole on the Winter Carnival Committee's website team to build content for the site. "The website is our window to the world, and it's important to present Saranac Lake in a professional manner while promoting this internationally recognized event."
The improved layout and user-friendly features are easily viewed on multiple devices and screen sizes. The website provides a modern visual experience and utilizes color schemes from the new Winter Carnival logo with tones of blue and white.
"The team worked tirelessly to bring the website to fruition, and to ensure that it represents the true spirit and traditions of the Saranac Lake Winter Carnival," said Eric Foster, chairman for the Saranac Lake Winter Carnival Committee. "Without their hard work, creativity and dedication, it would not be possible. The committee is also appreciative of those who contributed toward funding the website; our Winter Carnival sponsors and other donors."
Generous donations of money and time for the website were also given by Natalie Leduc, Adworkshop, Hungry Bear Publishing and others.
Winter Carnival attendees are encouraged to check the website for the latest schedule updates for events, which features a convenient schedule summary encompassing all of the festivities during this 10-day celebration.
Palace rises
Construction of the Winter Carnival Ice Palace began on Jan. 17. Construction involves harvesting ice from Lake Flower, transporting it to the shore and assembling it according to a blueprint. The palace was designed with a Celtic theme to coincide with the 2014 Saranac Lake Winter Carnival theme "Celtic Carnival." Construction on the palace will continue until the start of the carnival on Jan. 31.
(Continued on Next Page)
Prev Next
Vote on this Story by clicking on the Icon