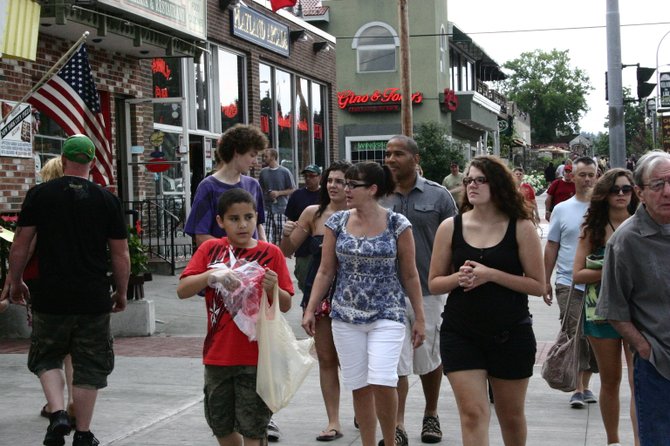 continued — "We're not just selling the Chamber's membership, we're promoting Lake George, the brand, and the entire county," he said, noting that the Chamber is busy year-round answering inquiries, as well as soliciting and arranging conventions, tours and conferences.
Consuelo added that his organization is bringing plenty of people to Lake George that otherwise might not visit.
"Lake George and Warren County is benefiting now from all the people we draw here," he said, noting that the Chamber advises tourists at the Lake George Visitors Center, plus it entices potential tourists at the Northway Exit 18 rest stop information center and the Exit 21 outlet mall tourist center.
He said he would be meeting soon with Carr and other downtown merchants to hear their input and discuss potential initiatives.
Carr also said Jan. 13 that sales tax revenue should not be allocated in Warren County by property valuation, but it should be distributed back to municipalities in proportion to where it is generated.
He noted that while the town of Bolton hosts relatively few businesses, it receives about $3.6 million annually in sales tax revenue, while Lake George Village — with its hundreds of businesses and hundreds of thousands of visitors annually — only receives about $600,000 in sales tax revenue.
"We are not getting our fair shake, and this discrepancy is bound to get worse with rising property values," he said.
On the subject of county Occupancy Tax revenue distribution, Carr said that much of the money was spent by the county for purposes not directly related to business promotion as was originally intended. He also suggested that business proprietors be represented on the county committee that allocates the revenue to various events and enterprises.
Blais said he was aware of such concerns aired by Carr and other business owners.
Vote on this Story by clicking on the Icon