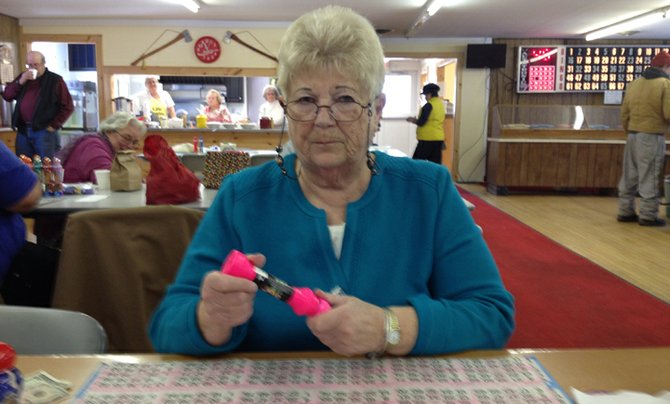 Ticonderoga — Bingo is more than a game to the Ticonderoga Fire Department.
"Bingo has meant a lot to us over the years," Jeff Burns, Ti fire chief, said. "We've purchased a lot of equipment, funded our fire prevention efforts, provided scholarships at school and done a lot of other things using bingo money. We've saved taxpayers a lot of money."
Now in its 40th year, bingo is played every Thursday at 6:45 p.m. at the Ticonderoga fire station on Montcalm Street.
"We're one of the longest running bingo games in the state," Matt Watts, assistant chief, said. "A lot of bingo games have shut down. Interest seems to be dying."
Interest is also down in Ticonderoga, prompting fire officials to consider the future of the weekly games.
In the 1990s bingo used to attract upwards of 140 people a week, Watts said. The bingo games Jan. 16 drew 32 players. At one point bingo added $30,000 a year to the department coffers. Last year it generated $9,000.
"We need 40-45 people to break even," Watts said. "People just aren't coming like they used to. I know January is a tough time — it's right after Christmas, taxes are due, there are high heating costs — but our attendance has been down for a while."
"There have been nights when we have more volunteers (firefighters) than we have players," Burns said.
That's prompting firefighters to consider changes. Watts interviewed players recently asking their opinions. Many asked for larger prizes.
There is a $1,000 guaranteed minimum pot at Ti bingo, Watts said. That pot increases depending on the number of players.
"We'd like to increase the pots, but we can't lose money," Watts said. "I'm sure bigger pots would attract more people, but we need more people to have bigger pots. We really need to boost attendance."
(Continued on Next Page)
Prev Next
Vote on this Story by clicking on the Icon