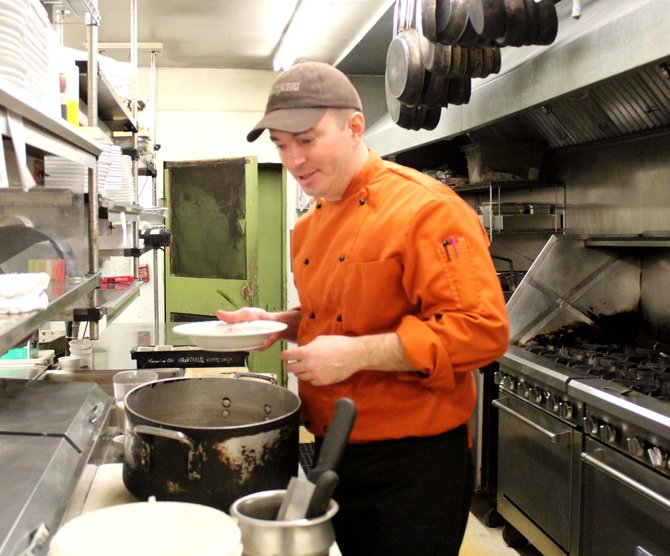 continued — He lists French cuisine as his favorite to cook.
"It's been executed and refined over so many centuries, it's hard to argue with," he says.
With his French cuisine backbone and varied experience, Davis can spin off to any style cuisine that the menu or specials call for. With his love of cooking both at home and in the restaurant, and an inquisitive, studious nature, the options coming out of Irises kitchen are sure to keep growing.

INGREDIENTS FOR RISOTTO CAKES:• 2 cups of aborrio rice
• 4 cups of vegetable stock
• 2 medium shallots (fine dice)
• 3 tbl extra virgin olive oil
• 2 tbl fresh sage
• 1/2 allspice
• 1/2 nutmeg
• salt and pepper to taste
• 2 cups roasted butternut squash
• 4 cups blended panko bread crumbs
TO PREPARE:In a sauce pan with good conduction (heavy gauged) heat olive oil over medium heat and add shallots and aborrio rice. With a spatula or wooden spoon, consistently stir the rice and toast it until it turns lightly brown. Ladle in 4-6 o.z of the vegetable stock and slowly stir the rice mixture until all the liquid is absorbed. Continue to ladle the stock in until the rice cooks, as it should become soft, yet still have a resistance to the tooth (al dante). (Very important to never stop stirring the rice as it cooks to release the enzymes in the rice!!!!!) Add the allspice, nutmeg, sage, squash, salt and pepper. Once incorporated, spread into a shallow pan and let cool. Shape into 6 o.z patties and coat with panko. Heat 1/4 cup of evo on medium high heat and brown risotto cakes on both sides. Arrange cakes on a baking tray and bake to an internal temperature of 160 degrees.
INGREDIENTS FOR ASIAGO MOURNAY SAUCE:• 2 shallots (fine dice)
Vote on this Story by clicking on the Icon