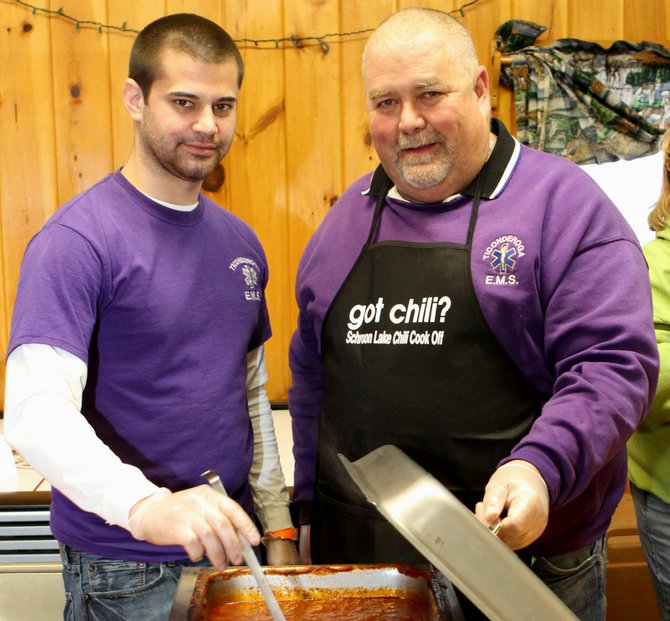 Schroon Lake — Regardless of the winter weather, there will be plenty of heat in Schroon Lake Feb. 22.
That's when the third annual Schroon Lake Chili Cook Off will be held to benefit the community's emergency services. The cook off will be 11:30 a.m. to 1:30 p.m. at the Mountainside Christian Academy gym. The school is located at 165 Route 9, south of the hamlet.
"We've already heard last year's fire and rescue squad winner," said Shelby Davis, who is organizing the cook off. "The Ticonderoga Emergency Squad, led by Mark Barber and Mickey Fitzgerald, will be back to defend their trophy, as well as Mr. P's Mountain Smokehouse, the winner in the Best Meaty Chili category.

"Last year we had 14 different chilis, and would love to have even more this year," she said. "Restaurants from all over the North Country are invited to attend, as well as fire and rescue squads. Chili cook off organizers will assist restaurants in getting the proper health department permits for this event."
There will be four categories — Best Meaty Chili, Best Veggie Chili, Best Chili by a Fire/Rescue Squad and People's Choice Trophy.

Registration fee for chili cooks is $20 until Jan. 31 and $30 after that date.
There is no registration fee for any fire or rescue squad to enter their chili.
Home cooks are also welcome to participate. They can contact Davis at 532-4300 for details.
All registrations must be in by Feb. 15. Entry information is available online at www.SchroonLakeChiliCookOff.org
The public is encouraged to attend and sample the various chili recipes. Those attending can pay $15, which covers an unlimited tasting wristband, or pay $1 for individual taste tickets at $1.
All proceeds benefit the Schroon Lake EMS Squad, and will go towards the purchase of training, materials and gear.

Vote on this Story by clicking on the Icon