Schroon Lake — Jeff Subra grew up in Iowa, so he's seen the damage left behind by tornadoes. That didn't prepare him for what he saw following Typhoon Haiyan in the Philippines.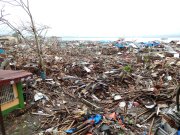 "I've seen the devastation caused by tornadoes," the Schroon Lake man said. "But this was unbelievable. Miles and miles of total destruction."
Subra, a registered nurse, went to the Philippines as part of relief team sent by the Christian Medical & Dental Association. The Bristol, Tenn.-based group has rotated teams in-and-out of the Philippines every two weeks since the disaster hit Nov. 8, killing more than 6,000 people and leveling entire communities.
Subra, a former Moses-Ludington Hospital nurse in Ticonderoga, was part of a seven-member team that provided health care to residents of the Tocloban area, which is located on the Philippine island of Leyte.
"Arriving in Manila you would never know there had been a typhoon," Subra said. "Once we got to Tacloban our eyes were wide open. The roads were lined with piles of rubbish and trash as they tried to clean up. Buildings were completely destroyed."
Typhoon Haiyan was 300 miles across when it struck the Philippines, one of the most intense tropical storms to ever make landfall anywhere in the world. It brought torrential rain, sustained winds of over 195 mph and a storm surge of up to 30 feet that devastated coastal areas.
There are millions of people who have been affected, including hundreds of thousands who have been forced from their homes. Those who survived needed health care, emergency shelter, clean water and food.
Based in Tocloban, Subra and his Christian Medical & Dental Association team visited nearby villages each day for two weeks in December. They worked with the World Health Organization and Salvation Army.
"We heard a lot of terrible stories," Subra said. "Entire families lost. Children without parents. It was awful. People were crowded into whatever shelter they could find, 13-14 people living in one room."
(Continued on Next Page)
Prev Next
Vote on this Story by clicking on the Icon