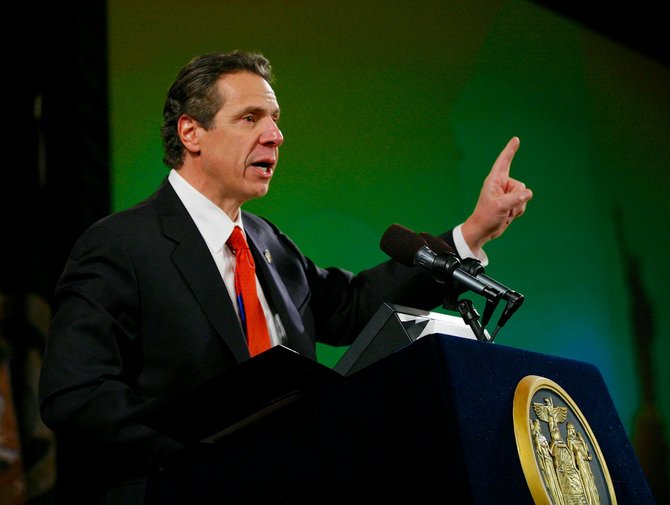 continued — For manufacturers, Cuomo suggested a zero percent corporate income tax rate for upstate enterprises and a 20 percent corporate property tax credit statewide — both to boost job creation and entice out-of-state and foreign firms to relocate in New York. He also suggested cutting the corporate franchise tax rate from 7.1 to 6.5 percent — and eliminating a utility surcharge tax of 2 percent to boost businesses' competitive edge.
Education technology a top priority
In the realm of education, Cuomo proposed borrowing $2 billion for a Smart Schools initiative that would provide computer equipment including servers, wireless networking, digital teaching tools and administrative programs for school districts. It would also equip students with computer tablets and desktop consoles — as well as promoting broadband access throughout communities.
"The most effective long-term strategy is to have the best education system in the world — period!" he said.
Plan to extend pre-k, reward academic excellence
Cuomo also said full-day pre-kindergarten should be universal throughout New York, adding that the state should bankroll constructing the classrooms needed.
Also proposed was boosting the partnership between high schools, colleges, government and employers to prepare students for fulfilling technology careers in-state.
Cuomo also said that free tuition to SUNY colleges, 4-year or 2-year, should be extended to high school students who rank in the top 10 percent of their respective classes.
Expressing alarm about a downstate case of extreme religious harassment, Cuomo proposed requiring all schools to report incidences of harassment or bullying to a variety of authorities.
Initiatives eyed to increase tourism
Tourism is also to be a focus of economic development in the plan. Rather than requiring outdoor sports enthusiasts to carry separate various hunting, fishing, trapping and boating licenses — and a state parks pass — citizens could have them all appearing as icons on their drivers' license.
Vote on this Story by clicking on the Icon