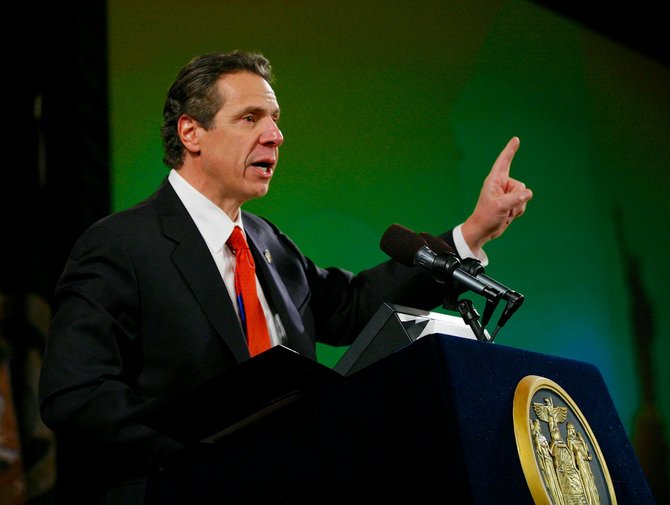 ALBANY — In a State-of-the-State speech that mixed political grandstanding with charting a course for the future, Gov. Andrew Cuomo proposed borrowing billions of dollars to boost technology in schools, cutting an array of corporate and individual taxes, and strengthening anti-corruption and bribery laws.
He also called for legalizing limited medical uses of marijuana, granting bonuses of $20,000 for outstanding teachers, reducing the corporate tax rate to zero for upstate manufacturing businesses, and strengthening punishment for young drivers who text while driving. He also proposed a law that would permanently revoke a driver's license after a third conviction for drunk driving.
Cuomo's presentation, titled "Building on Success," was apparently drafted to set the stage for his re-election campaign — about half his speech touted the achievements of his first term.
Cuomo: Tax cuts will boost prosperity
His tax cut proposals, announced earlier this week, total $2.2 billion. They are aimed at curbing an exodus of people and corporations — concerned about preserving their assets — from the state. He said that whether New Yorkers were wealthy or had modest incomes, they were taxed far too much.
Cuomo called for a two-year property-tax freeze for middle-class families, noting that municipal and school taxes, as a proportion of home value, are exceedingly high in upstate New York. In this plan, homeowners who live in municipalities that stay within the 2 percent tax cap will receive a rebate that equals any annual increase in taxes.
In addition, he proposed a property tax "circuit breaker" that would give low and modest-income homeowners a state income tax credit of $1,000 for those earning $120,000 or less. A similar tax credit would be extended to taxpayers whose income was $100,000 or less.
Also proposed was raising the threshold of the state's estate tax, allowing citizens to pass more assets down to their heirs without taxes. Noting that thousands of New Yorkers now move to Florida so they can avoid estate taxes, he proposed raising New York's estate tax threshold from $1 million to the current federal level of $5.5 million — and lowering the top tax rate to 10 percent.
(Continued on Next Page)
Prev Next
Vote on this Story by clicking on the Icon