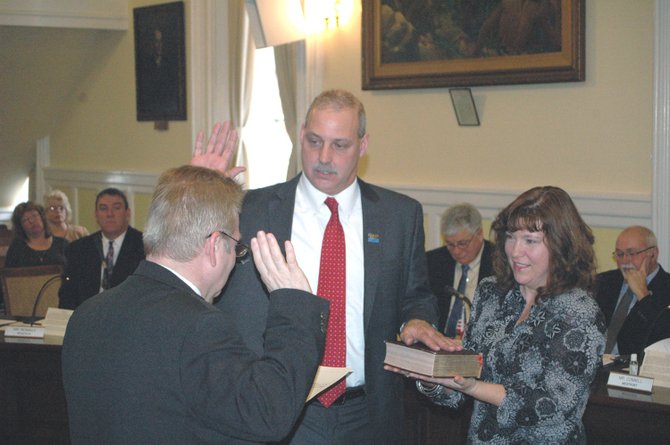 Elizabethtown — For the fifth time, Randy Douglas took the oath of office as the leader of the Essex County Board of Supervisors.
The Jay Supervisor was unanimously elected to serve an unprecedented fifth term as the boards chairman, with vice chairman Bill Ferebee of Keene being re-elected as well.
"It is an honor to work with all of you in this capacity," Douglas said during the Jan. 6 Organizational Meeting. "Together, with all of you, we have worked very hard to keep all Essex County needs on the minds of our state and national leaders. I can assure that I have given my heart and soul to this position and will continue to do so. I can tell you that the state of this county is strong."
Douglas talked about continuing to push through the challenges that have faced the county over the past four years, which have included the potential closure of the Moriah Shock Facility, the closure of the Lake Champlain Bridge, and natural disasters like Tropical Storm Irene.
"Because of what we have learned from that trying time we are so much better prepared and nothing phases us any more," Douglas said. "We have worked well with Gov. (Andrew) Cuomo, who has gone above and beyond the call of duty to assist us in our most difficult times. I know the North Country's well being is near and dear to his heart."
Douglas also spoke about tackling fiscal restraints at the county level.
"We convinced the state legislature to support our income tax percentage increase," he said. "We visited all the department heads to see first hand their operations. Some may say we did not do enough, some may say we went to far. It will continue to be a fine line to juggle what we need in Essex County and what we can afford. If you really think about it, we have averaged to two percent levy limit that the governor is asking for."
(Continued on Next Page)
Prev Next
Vote on this Story by clicking on the Icon