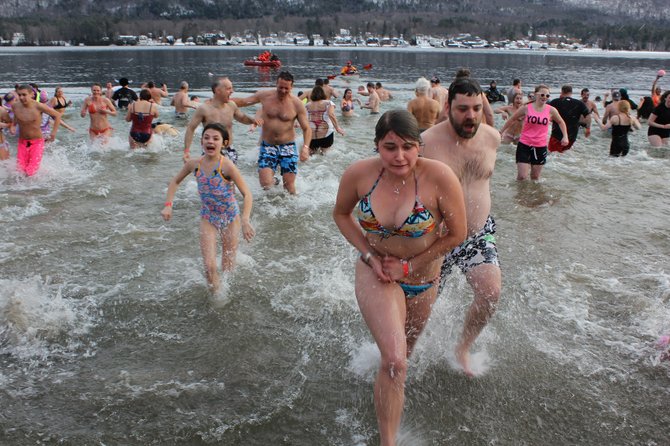 continued — A decade ago, Ostwald dared his students to join him in the New Year's Day polar plunge, and it's been a tradition ever since, he said, drying off after his swim.
"It's something to do, to shake things up," he said. "We're alive!"
Mike Gallagher and his wife Robin, their 11 year-old daughter Heyley and their son Michael, 15, drove up from Long Island to participate in the Polar Plunge.
They lugged bags containing shorts, T-shirts, robe, blakets, party hats, and flip-flops to their annual rite.
Mike Gallagher said his family wouldn't think of missing the event, despite the long haul.
"For the last 13 years, this is the way we start out the New Year," he said. "And we don't want to stop the tradition."
Drenched from her polar swim, Mackenzie McGuinness, 12, of Milford, N.J. stood on of several beach towels spread over the hard-packed snow on the beach. Clad in a bikini, she was shivering as the sub-freezing wind chilled her and her 10-year-old brother Seamus.
"This is terrible," she said. "But it wasn't as bad as I thought it would be coming back out of the water," Mackenzie said.
"That's because you're numb," Seamus responded.
"Yes, it's freezing, but I convinced them they'd have bragging rights," said their father Peter McGuinness.
Cathy Halliday wasn't shivering — she looked like the frigid temperatures were no big deal.
Twelve years ago, her family members decided it was appropriate for her to participate, considering that New Year's Day was her birthday, Halliday recalled. Every year since but one, she and her family members have participated in the rite to observe her birthday. They've also engaged in the polar plunge as a way to celebrate life itself — Halliday has survived a bout with cancer.
"Many years ago, they got me a little drunk, and the rest is history," she said.
Erik Andersen of Ballston Spa was jumping in dance-like movements, surrounded by family members and friends standing on beach towels.
A regular fair-weather visitor whose family camps on Lake George, Andersen said that the polar plunge had special meaning.
"Through this tradition, we pay homage to the lake," he said.
Vote on this Story by clicking on the Icon