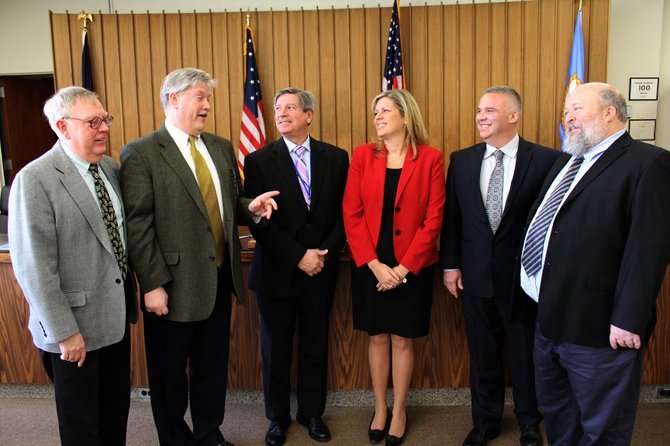 QUEENSBURY — In his State of the County speech Friday Jan. 3, Warren County Board of Supervisors Chairman Kevin Geraghty said that providing more space for the county courts, repairing county roads, adding guards at the county jail to meet the state's staffing requirements, and reallocating the sales tax receipts among the county's towns, were top priorities for 1014.
Geraghty was re-elected unanimously by county supervisors to his position of county leadership, This is the second year he has served in the post.
"This really is a serious need, and we may soon have an additional judge," he said, referring to the fact that state authorities are now considering adding a new Family Court Judge. "In 2007, we considered giving the courts more space, but we were scared off by the price. We can't kick the can down the road anymore — we really need to expand the court space."
For years, the county court system has been overcrowded, with inadequate courtroom, office, lobby and storage space, as well as lack of rooms for attorney-client conferences, and a lack of holding cells for prisoners.
Although the space problem has been recognized locally for years, it was brought to the attention of the state Office of Court Administration by a non-profit group that monitors the state's courts. The state agency had plans to work with the county to create more space, but state budget cuts derailed the plans in 2011.
Geraghty pledged that the project to carve out more space in the existing municipal center complex for the court system would be tackled beginning this month.
He also indicated that the county was now on a course of financial austerity. He observed that in 2013 the county was not involved in short-term borrowing, had accumulated a responsible fund balance, was now engaged in multi-year financial planning, and continued to craft budgets under the state's 2 percent limit.
(Continued on Next Page)
Prev Next
Vote on this Story by clicking on the Icon