Keene — For one team, it is steady as she goes.
For the other, it has been a year of vast improvement in their second season after returning from a three-year hiatus.
Combined, the Keene varsity girls and boys basketball teams have started the season 10-1, with the girls opening Northern Basketball League Division III play with a perfect 4-0 record and the boys team starting season 6-1 overall and 5-0 in Division III.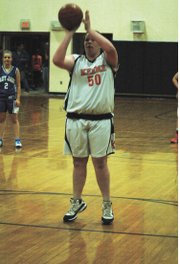 "It sure makes for better conversations about basketball," girls varsity coach Brian LaVallee said. "Chad (Lopez) and I are good friends and we are always talking about the game. It's great to see him smiling so big this year. We are hoping that we can, together, finish strong."
"Brian is a great coach and we often compare what we are doing on the court," Lopez said. "We can't keep up with the scoring pace of his team, but it is nice to both be off to good starts in the league. One of the best things about it is to see the younger kids starting to pay attention and coming out to the varsity games."
On the boys side, Keene is led by junior Colton Venner, who averages 16.4 points per game.
"It has been defense, mostly," Venner said about the strong start to the season. "We have been pressuring the ball on the defensive side which is allowing us to explode out on offense and get off to this good start."
"It is remarkable to see how much better everyone on the team has become," Gabe Warner (6.6 ppg) said. "We have been able to gel together well."
Staying healthy has been a key for the Beavers in their second season back as a varsity program. Point guard Austin Brown has been a threat from long range, connecting on 16 three-pointers and averaging 10.1 points per game. Senior Brandon Dumas has also been a key part of the Beavers gameplan, averaging 9.7 points.
(Continued on Next Page)
Prev Next
Vote on this Story by clicking on the Icon