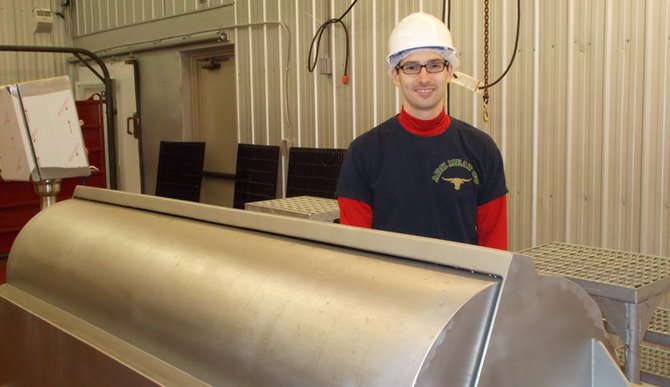 Ticonderoga — A meat processing plant in Ticonderoga is now operational. Adirondack Meat Co., located in the Ti Industrial Park, started production Feb. 12.
The $1.4 million, 7,500 square feet facility employs 10 full-time workers with plans for additional employees, a smokehouse and a retail store in the coming weeks.
"I'm very pleased with the way things are going," Pete Ward, Adirondack Meat Co. owner, said. "We're taking things one step at a time, but we're off to a very good start."
Ward said his company will connect farmers with customers, whether it be stores, restaurants or individuals interesting in purchasing bulk meat.
"We have plenty of farmers with animals available for use," Ward said. "That means we'll have fresh, local, all-natural beef and pork."
The firm will provide Adirondack-grown, grass-fed, organic beef and pork to restaurants and stores within an 85-mile radius, Ward said. There are also plans for internet sales of beef and pork along with a storefront at the plant that will sell directly to local customers.
Meat from the Adirondack Meat Co. is fresh, not frozen, Ward said.
"Nothing will be frozen unless a customer requests it," he said. "This is all fresh meat."
Ward believes his prices will be competitive. While large distributors and box stores deal with farmers, slaughterhouses, processing plants, packaging, distribution and transportation, Adirondack Meat Co. will do everything on location.
"We're cutting out at least three middle men and doing everything locally," Ward said. "I believe we'll be competitive with any big box store."
A few major manufacturers, like Smithfield and Cargill, account for 85 percent of the meat sold in the U.S., Ward said, keeping prices high. As an independent firm, Adirondack Meat Co. can keep its prices lower, he said.
Besides supplying beef and pork, Adirondack Meat Co. is now developing its own brand of ground beef.
(Continued on Next Page)
Prev Next
Vote on this Story by clicking on the Icon