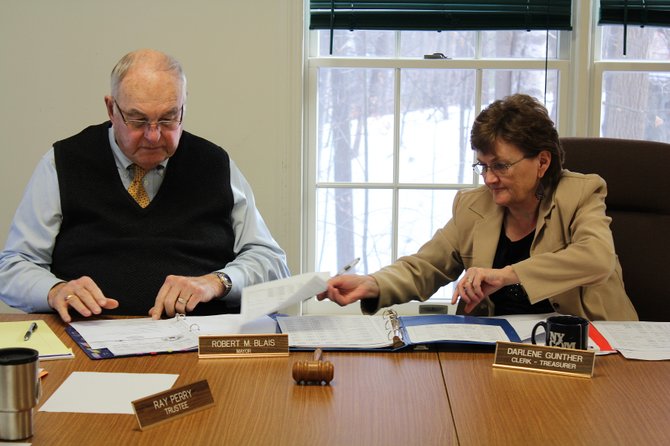 LAKE GEORGE — Despite increased health insurance costs and the payments toward a major capital project, the tentative Lake George Village 2014-15 budget calls for no tax increase.
At a lengthy meeting held Feb. 24, the Lake George Village Board reviewed and endorsed the spending plan, in effect from June 1, 2014 through May 31, 2015.
The budget, drafted primarily by Mayor Robert Blais and village Clerk-Treasurer Darlene Gunther, predicts a tax rate of $6.04 per thousand of assessed valuation, identical to the rate for 2013-14. This is the fifth year in a row the village budget has complied with the state's so-called 2 percent tax cap.
The budget's increase in appropriations, up from $4,250,660 in 2013-14 to $4,427,380, are offset by an increase in revenues of $2,714,925 and an allotment of $400,000 in surplus funds.
Sales tax, parking revenue offset municipal expenses
Major village revenues, other than real property taxes, continue to contribute to the Village's excellent financial outlook, Blais said. Such revenues include sales tax of $536,000, parking fees of $690,000 and public dock fees of $19,000.
Lake George Village, along with other municipalities across the state, is facing an 8.5 percent increase in health insurance — an estimated appropriation of $311,027 — and payments for Workman's Compensation totalling $45,000, also representing an increase.
During the upcoming year, village department heads are scheduled to each receive a $2,000 raise in their annual salary. Municipal employees are to be awarded a uniform increase of 50 cents per hour, while seasonal employees are receive a boost of half that amount.
The Village will again be contracting with the Warren County Sheriff's Office for seasonal police protection estimated to cost $28,000. The trustees decided to employ fewer peace officers for 2014 — and decrease personnel costs of village parking enforcement officers by eliminating meter enforcement on Mondays during the summer.
(Continued on Next Page)
Prev Next
Vote on this Story by clicking on the Icon