Church slates pancake supper
St. Cecilia's Catholic Church will host their annual Shrove Tuesday Pancake Supper from 4:30 p.m. to 7 p.m. March 4 at the church parish hall on Main St. in Warrensburg. The meal features pancakes — all you can eat — plus sausage, fruit, juice and coffee or tea. The cost is $5 for adults and $3 for children. In conjunction with the event, 50-50 raffle is to be held to benefit the local food pantry.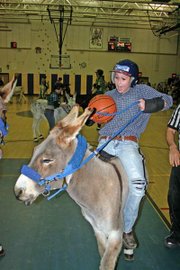 Donkey Basketball returns to WCS
Students and teachers at Warrensburg High School will soon be competing in Donkey Basketball, as this exhibition semi-sport is held at 7 p.m. Thursday March 6 in the school gymnasium off Horicon Ave.
Seeing teachers and students attempting to fling a basketball one-handed while riding on an obstinate creature has traditionally provided a lot of humor for spectators.
The Senior Class of Warrensburg High School Class of 2014 is hosting the event, a fundraiser for the Warrensburg High School Senior Class.
Tickets are $8 if purchased in advance at the High School office or from any senior student; and $10 if purchased at the door.
Donkey basketball, originating in the 1930s, has been a popular tradition at Warrensburg High and other schools in the area.
'Osteobuster' classes scheduled
The First United Methodist Church of Warrensburg is now hosting an exercise program for adults age 50 and older to help promote wellness, strong bones and toning. These 'Osteobuster' classes, held Wednesdays and Fridays from 9:30 a.m. to 10:30 a.m., are designed to help maintain bone density, boost bone strength, increase muscle mass, improve balance and posture as well as reduce the risk for fall-related fractures.
Osteobusters is a free exercise program of Retired Senior Volunteers and is sponsored by the Tri-County United Way. For details or to reserve a place in the classes, contact Judy Haggerty at 623-9818 or Carol Galusha at 623-8087. The church is located at 3890 Main St. in Warrensburg. All are welcome to stop in for a class to see what's it's like.

(Continued on Next Page)
Prev Next
Vote on this Story by clicking on the Icon