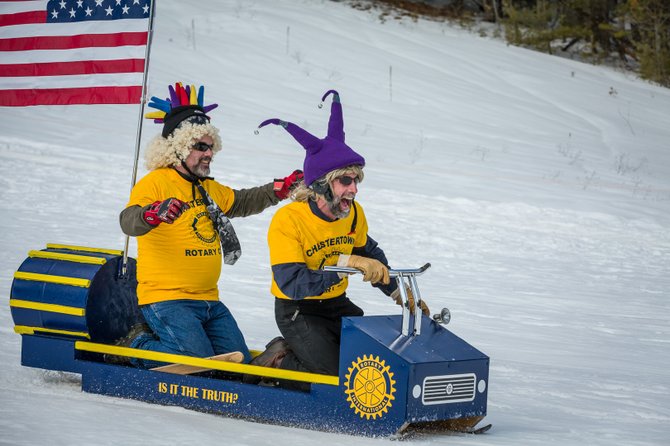 continued — Nearby, Rotary Club members John MacMillen and Craig Leggett pulled their yellow-and-gold "Rotary Rocket" sled out of the way.
The rode the contraption, complete with Harley handlebars and oak handrails down the hill, yelling and waving their arms as the crowd cheered. The craft was sponsored by the Chestertown Rotary Club — the first time in recent history the group has competed in the town's signature event.
"This is appropriate for the Rotary club, considering we're a big part of the community," MacMillen said.
Earlier in the day, the Rotarians sponsored a free breakfast, cooked up by Steve Caunter of Hemlock Ledge Restaurant.
Another craft evoking cheers was Eric Isachsen and son Sten riding their homemade version of an antique ice truck, named "Ice Ax Sun." In prior years, they've crafted a two-story house as well as a mock Viking ship to ride downhill.
Watching the sled race, Eugene Dutcher grilled up hot dogs on the porch of the town ski lodge. His wife Judy Dutcher was announcing the race entries, peppering her banter with humorous jibes.
Greeting dozens of people inside the lodge was new Horicon Supervisor Matt Simpson. He was joined earlier by state Sen. Betty Little, Chester Supervisor Fred Monroe and North Warren Chamber of Commerce President Barbara Thomas in celebrating the 50th Anniversary of Dynamite Hill, which was developed into a ski slope in 1962. This observance was complete with a celebratory cake and local natives sharing memories of long days of carefree winter recreation on the ski slope.
The anniversary celebration, Simpson explained, was held up two years for the completion of the Caroline Fish Nature & Cross-Country Ski Trails that meander through the Dynamite Hill property.
"This facility is a gem," he said, noting that his wife Judy and his teenage children Matthew and Sarah all learned how to ski on Dynamite Hill.
"This place has for generations been a big part of community life here," he added, pledging that next year, the town of Horicon was going to sponsor its own creative sled.
Vote on this Story by clicking on the Icon