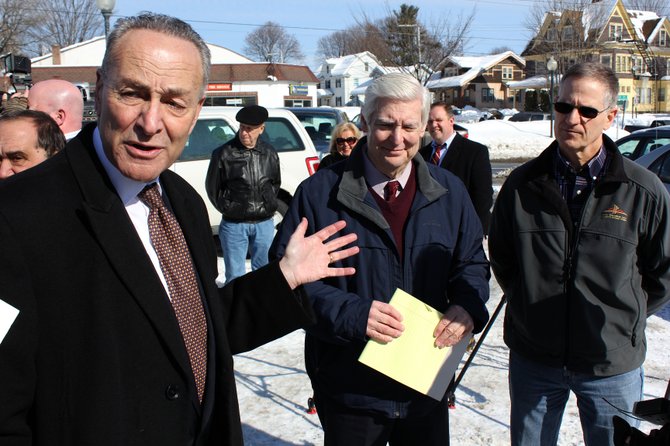 GLENS FALLS — Meeting with local community leaders Feb. 20, U.S. Sen Charles Schumer pledged to lobby federal officials for a grant to clean up brownfield sites in the city.
At a press conference held in front of the former Aroxy Cleaners on Warren St. in Glens Falls, Schumer said he would be urging officials of the U.S. Environmental Protection Agency to provide a $700,000 grant to the city so it could clean up six or more former industrial and commercial sites contaminated with chemicals.
"We have to clean up and reclaim these blighted properties and get them ready for redevelopment," he said, noting that the particular sites were located near many homes and a school. "They not only pose a health risk due to the highly toxic chemicals, but they are a obstacle to development, a roadblock to economic growth, they are sites for crime, and they devalue properties in the neighborhood."
Recently, Warren County EDC submitted an application for a brownfield remediation grant through the EPA's Revolving Loan Fund which would allow the city to award loans or grants to property owners and businesses to clean up the specified sites in Glens Falls Ward 1: Aroxy Cleaners, the former U.S. Post office, a textile mill, Perkins Recycling plant, and the former Warren Garage Chrysler dealership, all along Warren St. downtown. Also to be remediated is the former Mullen Iron Works plant now belonging to Miller Mechanical on Cooper St. north of the Post-Star offices.
Warren County EDC President Ed Bartholomew said that the cleanup of the Miller Mechanical property was a top priority.
"Miller Mechanical is a strong business, and they want to expand."
Elizabeth Miller, owner of Miller Mechanical which fabricates steel for the paper-making equipment, was present at the press conference.
"With this help from the EPA, we could expand our operations and create 20 to 30 new high-paying jobs," she said.
(Continued on Next Page)
Prev Next
Vote on this Story by clicking on the Icon