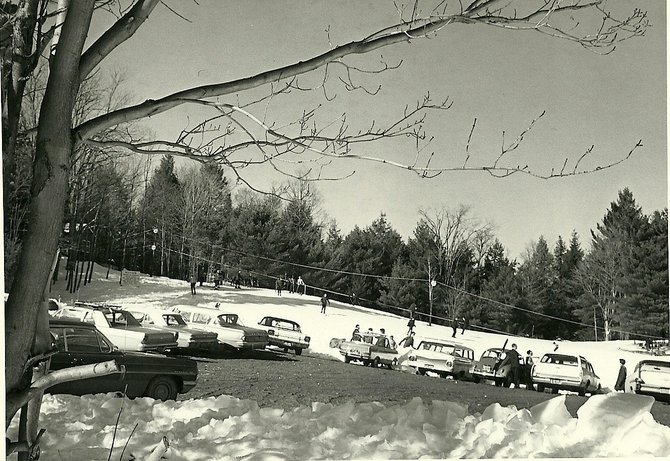 continued — Chestertown Rotary Club President George Stannard said that Dynamite Hill has served the region well with its free skiing, sledding and skating opportunities.
"For generations, everyone's been benefiting, not only local residents, but area visitors and low-income families in the region," he said. "Everybody has used it — even people residents as far south as Lake George and beyond. Besides our lakes, it's the most popular landmark in our town."
Monroe and Stannard said people come to Dynamite Hill and spend the day.
"Dynamite Hill has been a great asset to the community, and everyone enjoys it or talks about it," Stannard said.
The 170-acre plot also hosts the town Little League fields, located at the base of the hill.
In recent years, the recreational resources of the property have been expanded. Retired Forest Ranger Steve Ovitt has developed the new Caroline Fish trail system, expanding and enhancing primitive trails that had existed for years. The trail network is a favored destination for hikers, snowshoers and cross-country skiers.
This past year, Boy Scout Will Jennings constructed, with some help, an Adirondack lean-to about a half-mile into the woods at Dynamite Hill, and it's now a popular feature on the trail system.
In Fall 2012, the town installed solar panels on an edge of the property to provide electricity for the ski lodge as well as a nearby water pump station.
The Dynamite Hill Recreational Area has also been busy hosting community celebrations and major events. For decades, it has hosted the Pug Parade & Party, as well as the Krazy Downhill Derby, a sled race featuring creative and often bizarre creations.
For decades, the facility has also hosted the annual summer concert series which features some renowned musical groups. The lodge has also been used for weddings, anniversaries and family reunions, Fred Monroe said.
Vote on this Story by clicking on the Icon