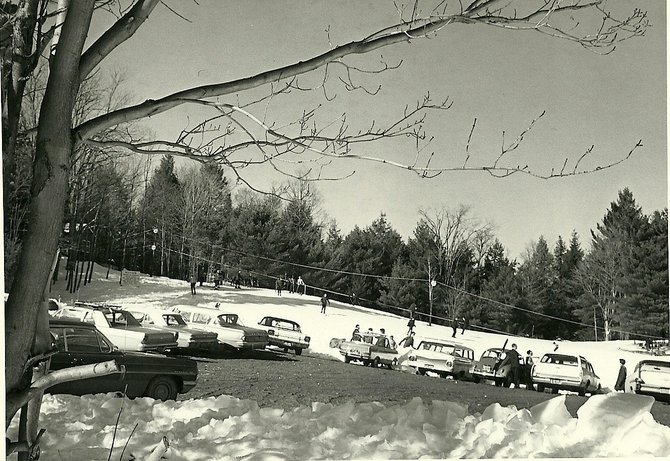 CHESTERTOWN — As the upcoming celebration observing the 50th anniversary of Dynamite Hill Recreation Area approaches, people in North Warren communities recalled this week how the facility has played an important role in the lives of generations of North Country residents and visitors.
The North Warren Chamber of Commerce is planning a belated anniversary celebration for the skiing, sledding and skating facility which was developed in winter 1962 by the Chestertown Rotary Club. The event is to take place on Saturday Feb. 22 in conjunction with the town's annual Krazy Downhill Derby on the slope.
Chester Fred Monroe grew up in Chestertown, and as soon as the Dynamite Hill Recreational Area was developed by the Rotarians in 1962, he was employed there as a ski instructor.
"Since the early years, Dynamite Hill has been extremely popular — it's been practically swamped with children who've had a great time there," he recalled this week. "It's a wonderful facility for kids — generations of our youth have learned to ski there."
He noted that in the early years, the ski slope, outfitted with a tow rope, hosted a warming hut with a fireplace.
In the mid-1990s, a skating rink was constructed at the top of the hill. Then in the late 1990s, he added, the town ski lodge was built atop the hill, with volunteer labor and materials donated by Lincoln Logs Ltd. A room in the building's lower level houses the town youth program.
Then in 1992, the town board decided to maximize use of the facility by purchasing a used snowmaking machine. That year, Monroe's nephew Jason Monroe volunteered his time to make snow on winter weekends, staying up all night — moving the snow gun every several hours to assure even coverage of the hill.
Fred Monroe observed that the snow gun produces a lot of snow, noting that on nights when left running in one place, it has generated piles of snow 14 feet high or more.
(Continued on Next Page)
Prev Next
Vote on this Story by clicking on the Icon