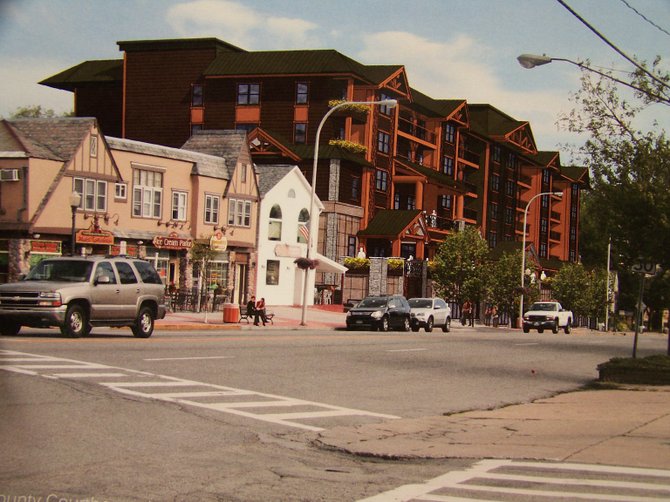 continued — Kenny noted that the existing businesses that would be razed to accommodate the hotel on Canada St. — two restaurants and a tavern — have been producing 10,000 to 12,000 gallons per day, so the actual additional sewage flow would be under 10,000 gallons daily.
Planning Board chairman Robert Mastrantoni called for a decision without seeking comments from the audience.
Board member Chuck Luke read a lengthy motion to approve the project, a document that had been prepared in advance with the assistance of an attorney. The motion included reference to how a rooftop bar or solar panels would have to be reviewed and improved in advance by the local planning board.
Board member Dean Howland seconded the motion to approve. Joining the two with an affirmative vote were Mastrantoni as well as Dan Brown. Voting against the motion were Dan Wolfield and Patricia Dow. Wolfield said he wanted to delay any decision until hearing the concerns raised by the APA officials. Peter Bauer of Protect the Adirondacks had recently told the board doing so would be smart because the local planning board would thus have the benefit of the APA staff's comprehensive expertise in planning issues.
Dow said she rejected the motion because the village's wastewater issues that triggered legal action by the state had not yet been resolved. She also said the hotel would be a burden on public infrastructure. She added that the architecture of the hotel didn't comply with the village's new architectural mandates, which include stepped roofs, recesses, bump-outs and other aesthetic embellishment.
The roofline isn't varied," she said. "Visually, it remains a large boxy structure."
After the vote, hotel developer Dave Kenny said he was pleased with the Planning Board's decision, and he was ready to move forward with the plans.
"We'll see what the APA says — I think we've tried to make it the best we can. Hopefully the hotel will be positive for Lake George Village — which needs changes."
Vote on this Story by clicking on the Icon