The newly renovated Lodge is conveniently one of the stops the shuttle makes to transport people just minutes to Gore.
Matt has been blazing cross country ski trails on the 14-acre property for something extra for visitors to do to stay active and appreciate the wilderness the area has to offer.
The Lodge offers a variety of rooms ranging from contemporary with modern décor to rustic with Adirondack charm.
"A two night minimum is required to stay here but we're hoping for a lot of weekly and monthly rentals," said Matt.
Claudia Creuteburg, a monthly renter, said she chose The Lodge at Gore Mountain because of its location and friendly staff.
"The shuttle is very convenient, my husband and I can take turns watching our little one and still have our vehicle here. The three minute trip up the mountain doesn't hurt either."
Though they were a little late opening this year due to renovations, the Parobecks are hoping to be booked for the season next year. For more information visit http://goremountainlodge.com/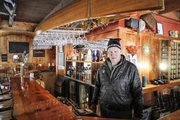 THE BLACK MOUNTAIN LODGE AND RESTAURANT:
Black Mountain Lodge reopened on Route 8 in North Creek on Nov. 30 after being purchased by Buffalo native Mark O'Connell.
"We had a local following as soon as mid December," said OConnell.
The 25 room lodge offers Adirondack style rooms just three miles from Gore Mountain.
O'Connell said that the facility is still expanding and constantly coming up with fresh ideas to attract new cliental.
A game room is currently under construction in the building's basement and there are plans for cross-country ski and snowshoe trails on the 9.5-acre property.
Mark also plans to install 12 solar panels to make the facility as efficient as possible.
For summer activities O'Connell is planning an outdoor patio area with fireplaces and possibly a volleyball court.
Vote on this Story by clicking on the Icon