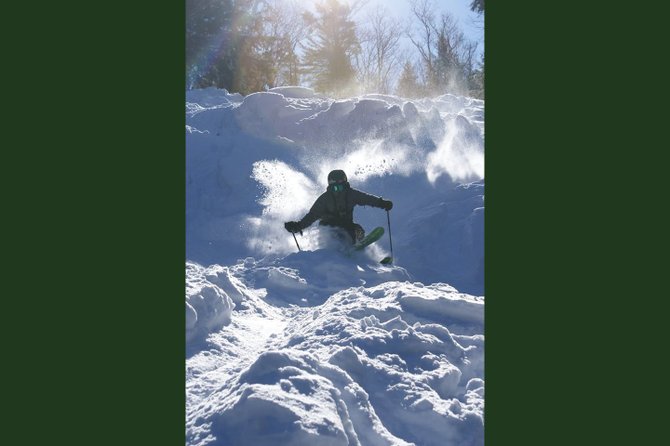 WARRENSBURG — Due to recent frigid weather and ample snowfall, hundreds of people from near and far are now enjoying the slopes at Hickory Ski Center.
President's Day weekend was popular at Hickory, a classic ski venue that is a favorite destination for families and skiing traditionalists from all over the U.S.
While Hickory was open its earliest in many years on Dec. 21 due to early snowfall, it had been open only intermittently until early February because of lack of snow.
But on Feb. 7, no less than 15 inches of snow fell on the slopes, followed up by another 15 inches between Feb. 13 and 16, Hickory officials said.
Ski center spokeswoman Kristin Short said that dozens of skiers enjoyed their experience at Hickory over Presidents Day weekend.
Saturday Feb. 15 was particularly busy, she said, noting that a crowd waited with eager anticipation for the lifts to start running at 9 a.m. that day.
"So many people waited in line for the lifts to start up, so they could experience fresh powder runs," she said noting that the powder conditions lasted for a long time.Later in the day, the skiers enjoyed the moguls on several of the expert slopes, she continued.
"It was wonderful to have a really, really good turnout," Short said. "People had such a good time skiing Hickory — as we all remember it."
Skiers have a wide choice of terrain at Hickory. They can charge down the upper steep slopes or glide down the intermediate and beginner slopes lower on the mountain. Also, they can take an excursion on several trails through wooded glades for a change in pace.
This year, a new groomer has been preparing corduroy trails that have provided an ideal surface.
The fun is not only on the trails. Hickory's ski lodge offers a pleasant place to take a break, with its circular fire pit where skiers gather and swap tales about their experiences. It also features a cafeteria, as well as a broad picture-window view of the face of the mountain. The lodge also has a porch which is a favorite place for skiers to hang out and enjoy some sunshine and conversation, Short said.
(Continued on Next Page)
Prev Next
Vote on this Story by clicking on the Icon