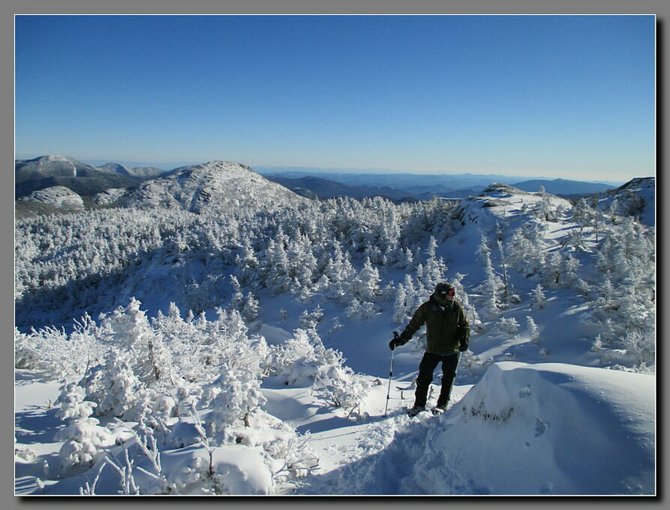 KEENE — For one man, his attempt to scale all 46 High Peaks in 12 days starting Tuesday, Feb. 18, is a way to honor the memory of his son while raising money for a good cause.
"This is my Everest and something I have a good chance of pulling off," said veteran climber and Montréal-based chiropractor Neil Luckhurst.
In October 2005, Luckhurst completed climbing the tallest 46 mountains in the Adirondacks with his son, Dominic Cartier-Luckhurst. That experience inspired the latter to embark on a career as a mountain guide. He quickly relocated to the Canadian Rockies from Montréal and passionately threw himself into the field.
"He was really gifted," recalled Luckhurst.
But on Jan. 7, 2008, during a backcountry skiing trip on Mount St. Piran in Alberta, Canada, Cartier-Luckhurst's promising life was tragically cut short when he got caught in an avalanche as the snowpack unexpectedly gave way.
By all accounts, it was supposed to be a safe route.
"For years, we've been processing and dealing with this," he said.
Dominic was 19.
The outpouring of support manifested by the members of ADK High Peaks Forum that Luckhurst founded and ran with Tim Dubois inspired the two to found the ADK High Peaks Foundation, a non-profit designed to provide financial assistance to individuals or organizations whose activities provide a benefit to the New York State Forest Preserve and the people that use it.
According to their website, the foundation has a particular interest in funding wilderness zone and environmental protection, safe recreation, public education and biological research. So far, the foundation has raised close to $8,700 for Project 46, Luckhurst's upcoming climb, through a pledge-per-peak system in which donors pledge a certain amount for each summit that Luckhurst successfully climbs during the 12-day adventure.
"This fundraising is kind of helping me work through my loss," said Luckhurst. "I don't how it works, but it does."
(Continued on Next Page)
Prev Next
Vote on this Story by clicking on the Icon