Lake Placid — Over 1,400 athletes from throughout New York returned to the Olympic Village of Lake Placid to compete for gold and glory in the Empire State Winter Games Feb. 6-9.
Fueled by the additions of new events and the draw of winter sports while the global Olympic Games take place in Sochi, Russia, organizers of the 2014 Empire State Games reported 1,403 competitors taking to the ice and snow over the four-day event, a 20.2-percent increase over last year.
"We are delighted to report that the growth exceeded our expectations for this year," said committee member James McKenna, CEO of The Regional Office of Sustainable Tourism (ROOST). "Good news like this and fresh snow are a great way to launch this year's event."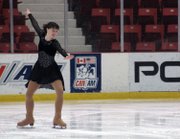 Remarks at the opening ceremonies were from Keene resident and Team USA skier Tommy Biesemeyer, who was unable to compete at Sochi with a knee injury.
"These Empire State Games are what sports should always be about: commitment, persistence, and resilience," Biesemeyer said. "Values like these I truly appreciate today. For all of you competing this weekend, don't think that what you are doing here is any less important then what is happening in Russia."
Biesemeyer, a former ESG athlete, said that the Lake Placid games represented "pure competition," a sentiment echoed by Sandra Harper, a figure skater with the Skating Club of Lake Placid.
"It takes a lot of courage going out there in front of the people," Harper said. "It's great to have these games. You think about all of the history and it is such an honor to be out on that ice with all of that history out there."
Results were reported through Mike Kane at the Empire State Winter Games.
Alpine skiing
David Meola and Gabriella Vasile won the Empire State Winter Games Alpine slalom races Feb. 9 at Whiteface Mountain. Meola, a student at the Northwood School in Lake Placid, had the best times in each of the two men's runs, 41.47 seconds and 44:98, for a combined time 1:26.45 to best this Northwood teammate Jordan Roney of Laurel Springs, N.J. Third was Jeffrey Swagler of East Rochester, skiing for Bristol Mountain. Roney was second in the first run and fifth in the second, while Swagler was fourth in the first run and second in the last run. A total of 17 skiers completed the race. Vasile, a Bristol Mountain skier from Webster, had the two fastest runs in the women's race for a combined time of 1:33.72. She was nearly a second faster than runner-up Sheila Decker of Saranac Lake, a member of the New York Ski Foundation team at Whiteface. Sabrina Easton of Hunter Mountain was third. Thirty-three skiers completed the women's race.
(Continued on Next Page)
Prev Next
Vote on this Story by clicking on the Icon