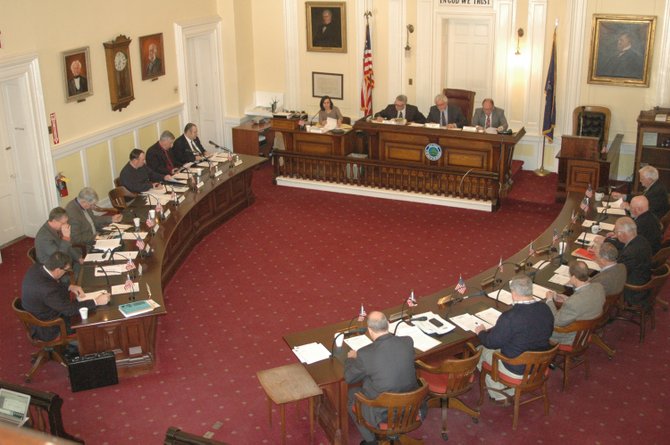 Elizabethtown — The sale of the Horace Nye Nursing Home to the Bronx-based Centers for Specialty Care (CSC) was delayed again last week as the parties continued to negotiate a resolution to an issue involving the septic system and sewage pits as a result of the detection of some contaminants, county attorney Daniel Manning told lawmakers at their full board meeting on Thursday, Feb. 6.
Manning said the facility's septic tank drains into 13 seepage pits ranging in volume from 2,500 to 5,000 gallons. Sometimes solid sediments go into the pits and collect, he explained, and CSC needs assurance that the groundwater hasn't been contaminated by these sediments, most of which are medical byproducts.
The county is currently discussing what needs to be done and the options for moving forward. A resolution was passed at the meeting Feb. 6 setting aside $75,000 from the sale proceeds to pump out the pits if necessary, said Manning, something that officials hope can be done after the closing.
The board delegated County Manager Daniel Palmer and Chairman Randall Douglas the authority to determine what the county will agree to expend, but not exceed, $75,000.
"We're hoping that everything can get solved this week," said Douglas.
This marks the third time the sale has been delayed. The most recent closing date was set for Friday, Jan. 31.
INSURANCE THRESHOLDS
Also discussed by the board was the county's continued tweaking of a new electronic payroll system alongside a resolution to establish years of service thresholds for all elected and appointed county officials to determine their eligibility for retirement health insurance:
Officials elected or appointed prior to Jan. 1, 2009 will now require 10 years of service for their benefits to kick in; 15 years for those arriving after that date until January 1, 2013, after which the figure finalizes at 20 years.
(Continued on Next Page)
Prev Next
Vote on this Story by clicking on the Icon