To the Times of Ti: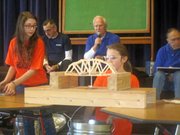 National Engineers Week is Feb. 16-22, which celebrates the positive contributions engineers make to society and is a catalyst for outreach across the country to kids and adults alike. Our community knows all too well, how engineers play a critical role in our society's infrastructure, after the closing of the Champlain Bridge.
I'd like to bring attention to a very successful local event that highlights engineering principles and skills to young students. The seventh annual Ticonderoga School Student Model Bridge Competition was held on Dec. 14. It was sponsored by the Ticonderoga Kiwanis Club. Students from the Ticonderoga Middle School, Ticonderoga High School, St. Mary's School and Crown Point School participated in the event. Numerous local businesses, like Reale Construction, Denton Publications and D.A. Collins, sponsor this event because they recognize the great opportunity for our children to have an interest in science and math.
Over the years of the event, the students continue to learn from each other, designing and building stronger bridges. The middle school students build model bridges out of popsicle sticks during a 1-1/2 hour time limit and then load the bridge until it fails. Eight of the 13 bridges carried over 50 pounds. The number of teams participating continues to increase, while the results of the loads that their bridges carry continues to improve as well.
This year, 12 high school teams constructed bridges out of balsam wood. The winning balsam wood bridge carried a 145-pound load.
This event would never happen without all of the dedicated volunteers from the Ticonderoga Kiwanis, members of the Ticonderoga Teachers Association and all the teachers who volunteered. A very big thank you goes to Graham Bailey, an engineer, who had the vision for the event and the commitment to make sure the event happens year after year.
(Continued on Next Page)
Prev Next
Vote on this Story by clicking on the Icon