The weather is starting to break and I will be out with the dogs, bird hunting soon. Grouse season ends the end of February so I have some time left. To me, walking through the aspen and apple tree thickets and maybe even flushing a bird with my dogs, is comparable to fishing during an Ephemerella hatch of mayflies; a glorious day to be alive.
For Christmas, my brother sent me a couple of great books to read while the minus 20 degree weather keeps me in the house. One was "Grouse Cover", a complete set of newsletters written by Mr. George King, the other: "A Passion for Grouse", which is a collection of articles, written of course, about the King of Birds; the Ruffed Grouse.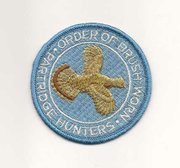 Mr. King's newsletter "Grouse Cover" started in October 1969. His one page, double sided newsletter was written solely by George King for grouse hunters. In his newsletters he covered season dates and bag limits by states, magazine articles, grouse photos and prints that were available, books about the bird, hunting dogs and grouse habitat management. Mr. King penned the newsletter, printed, packed letters and mailed them out with his family, Linda, Kathy and his Grouse widow, Penny.
Much of the costs for this feathered publication he bore out of his own pockets when he first got started. His goal was to educate, inform and build camaraderie of fellow grouse hunters. As his mailings grew, he slowly ventured into keeping a subscriber list. In 1971 his subscribers totaled more than 3000, covering numerous states. A years' worth of "Grouse Cover" lore and tales, sold for a whopping $2.00.
George King's passion for this bird carried over into starting a fraternity or society of Ruffed Grouse hunters, known as the Ancient and Honorable Order of Brush Worn Partridge Hunters, A.H.O.B.W.P.H. A parchment certificate with the A.H.O.B.W.P.H. code and the member's name was sent to every raspberry patch and thorn bush co-conspirator of the grouse cover world. These guys were known locally as the "Brush Worns".
(Continued on Next Page)
Prev Next
Vote on this Story by clicking on the Icon