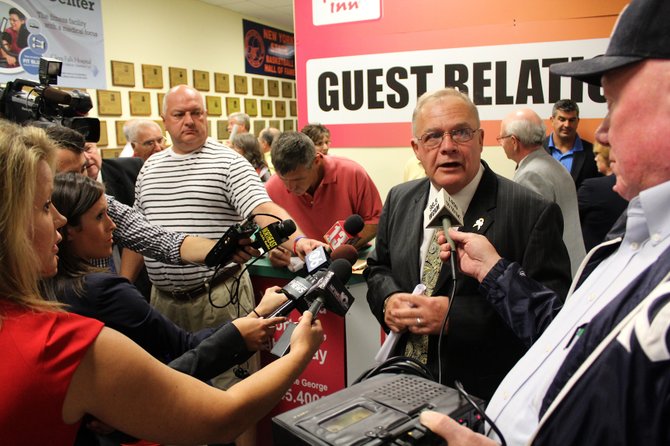 GLENS FALLS — Nearly 200 people gathered Monday Aug. 18 for a public auction of the Glens Falls Civic Center — and many had high expectations — but not one individual or organization submitted a bid to purchase it. The minimum bid for the 70,000-square -feet arena which seats 5,000 was $1.5 million, a fraction of its present construction cost.
Standing in the civic center lobby and surrounded by news reporters, Glens Falls Mayor Jack Diamond said he was disappointed — but he will be meeting with other city council members soon to evaluate options in their ongoing effort to transfer ownership. The city council has sought to sell the 35-year-old venue in order to stop shouldering annual deficits recently averaging $600,000 to $700,000.
The council will undoubtedly be reconsidering area developer Rich Schemerhorn's $750,000 offer, submitted months ago before the auction was announced, Diamond said. Diamond and other city officials met with several of the 12 parties that expressed interest in acquiring the civic center, he said.
"We're going to look at all our options," he said. "My goal is to get the building sold."
Diamond said he was pleased with the emergence of support for the civic center, from both the private and public sectors. In recent weeks a citizens' group named the Coalition to Save Our Civic Center formed. Spearheaded by French Mountain Commons mall owner Ed Morse and Adirondack Regional Chamber of Commerce president Peter Aust, the group cited its mission as assuring the future of the venue.
The arena, first of its kind in the area, has in the past 35 years hosted a half-dozen hockey teams, nationally-known rock bands, country music performers, countless basketball tournaments and trade shows.
Area public officials also came forward recently, stating they'd entertain proposals of regional funding. Although months ago Warren County supervisors rebuffed Diamond's pleas for money to pay toward operational expenses, the supervisors showed interest last week in an idea raised by Queensbury resident John Salvadore to establish a public authority to own and operate the venue.
(Continued on Next Page)
Prev Next
Vote on this Story by clicking on the Icon