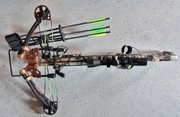 The crossbow will be a legal hunting tool this fall, and has really stirred up the hornets' nest. While at Lincoln Pond hydrating one afternoon after cutting firewood, I had a discussion with a friend, John. I realized many of us don't know a whole hell of a lot about crossbows and DEC laws concerning their use. So, I started researching them a bit. Confusion abounds!
The crossbow has been controversial to many traditional bow hunters, due to the season and because a crossbow is cocked and ready to shoot, while a traditional bow must be drawn back and held manually until the shot.
The season issue dealt with it cutting into either traditional bow hunting or muzzle hunting dates. That has been settled and is now in the law.
There is also a concern about jacking. But the way I see it, if they are gonna jack deer, it doesn't matter if crossbows are legal or not, jacking is illegal, no matter what they use. Just like guns, criminals will use them if they are illegal or not, and registering guns or banning them is not going to solve the problem.
Like many changes in hunting equipment, this is one of personal preference. A traditional long bow was replaced by the recurve, then the compound bow, just like the flintlock, the muzzle loader was replaced by the percussion cap and then again by the in-line using a 209 primer ignition. Round balls replaced by sabots. To me, it's a hunter's personal preference.
I am looking into crossbows because of the way I like to hunt deer. I am not a sitter. I have tried sitting in a tree stand, but it's just not for me. After an hour or so in a stand I start to seize up and need to move, besides, I like to wander, find sign and discover new places. I would prefer to move, find a spot to sit awhile, move again if needed. The crossbow would allow me to do that easier than a traditional bow. It's my style and I'm sticking to it!
(Continued on Next Page)
Prev Next
Vote on this Story by clicking on the Icon