MINERVA — Matt Funiciello gives a lesson in mixing color: red plus blue can equal green.
Funiciello, a Glens Falls baker, has long been involved in politics on the local, state and national levels, with the Democratic Party, Working Families Party and most recently, running for New York's 21st Congressional seat in a mid term election as a Green Party candidate.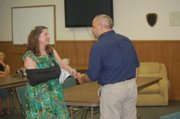 "I am running on the Green Party ballot because I have worked with Ralph Nadar for the last 15 years," Funiciello said. "I agree with his views on Congress."
Speaking to a room of about 20 in the Route 28 Firehouse in Minerva, Funiciello said he considers himself to be fiscally conservative and socially progressive, adding that both of the debates he has taken part in during his campaign have been Republican primary debates.
"I do well with Republicans," Funiciello said. "We may not agree on everything but they can see my side of the equation, being a worker, not someone who wants to listen but someone who has been listening."

Spending nearly all of his life in the 21st District is something Funiciello said gives him an edge over Republican candidate Elise Stefanik, a former Bush staffer, Willsboro resident and manager of her parents' lumber and flooring business.
"I am a business owner in the district, a business that is in as much debt as it is making money," Funiciello said. "My parents aren't worth 50 billion dollars, (Elise) Stefanik wasn't a kid who went to Harvard on her grades she is a child of privilege who has never had to work."
Funiciello also discussed his opinion of Aaron Woolf, the Democratic nominee, an independent film maker and deli owner who spends his time between his home in Elizabethtown and his business in Brooklyn.
"I like Aaron Woolf, he's a nice guy," said Funiciello. "But I think he might be making a movie, I just don't think its real."
(Continued on Next Page)
Prev Next
Vote on this Story by clicking on the Icon