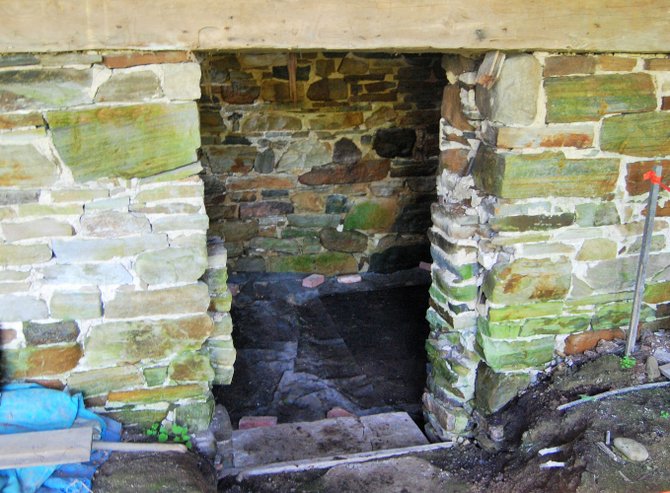 KEESEVILLE — When John Lecky, a local citizen, renovated a farmhouse on Hallock Hill Road between Keeseville and Harkness, he discovered a leg iron, or shackle, under the floor boards at the top of the stairway leading to the attic.
The house had been built in 1820 by Pliny Hoag on approximately 190 acres owned by his father, David Hoag, who was a member of the Quaker Union. The North Star Underground Railroad Museum concluded that the Hoag family had provided assistance to at least one slave as represented by the leg iron, which can be seen on the Underground Railroad Museum bus tours.
The two-hour tour leaves the North Star Underground Railroad Museum Aug. 16 at 9:30 a.m. The cost is $10 per person, and reservations are suggested.
"This year is the third year we've done the tours, and they've been quite successful," said Linda Richardson, first vice president for the North Country Underground Railroad Historical Association (NCUGRHA) and tour guide for the bus tours. "It's not a very extensive tour, but it gets the story out of how strong this area was and how they helped people to seek the freedom that they deserved."
The museum can be visited before or after the tour, which takes passengers to a number of anti-slavery sites in Keeseville and Peru.
'FREEDOM TRAIL'
The Champlain line of the Underground Railroad encompassed the upper Hudson River, the Champlain Canal and Lake Champlain.
Runaway slaves who reached these water ways took steamboats, barges and canal boats as part of their northward journey. Stagecoach and railroad lines from New York City and New England provided land routes into the region.
It's unknown the exact way they went from Albany to Peru. The freedom seekers may have followed the Great State Road from the Southern Adirondacks to Clinton County. They might have also taken Lake Champlain steamers and disembarked at Port Kent and then proceeded inland to Keeseville and Peru.
(Continued on Next Page)
Prev Next
Vote on this Story by clicking on the Icon