STONY CREEK — During a break in a timber-sports competition at the Mountain Days Festival Aug. 3, lumberjack Jerry Gingras of Errol, N. H. leaned against the tailgate of his pickup truck. He wiped the blade of his bowsaw with WD40, removing pine-pitch residue so the blade would glide through timber with a minimum of friction during a lumberjack competition.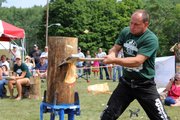 This is phenomenal wood today," he remarked to his fellow lumberjack Mike Eash of Coatesville, Pa. "It has just the right amount of moisture, and it's uniform."
Earlier, Gingras had scored the shortest time in the first round of a "hot saw" competition, in which souped-up chainsaws rip through 10"x10" pulp wood several times.
Sunday's five-hour timber-sports showdown at Mountain Days was a sanctioned competition of the New York State Lumberjacks Association — a popular annual feature of Mountain Days. This year, lumberjacks from as far away as Switzerland competed.
It's not as if Gingras had to prove anything at Mountain Days. He holds a few world records with his chainsaw, as well as setting a record this year at the Boonville NY Woodsmen's Field Days. At 43 years old, he's been competing for 31 years.
Unlike some of the other competitors, his chainsaw wasn't powered by a motorcycle engine — it's a Husqvarna with its stock 9.2 horsepower engine with its cylinder bored out and otherwise modified to yield 36 horsepower. Like dragsters, the modified saw is powered by nitromethane.
Gingras has competed in a dozen northeastern U.S. states as well as in Canada, sometimes competing in several lumberjack competitions in a weekend — occasionally sleeping in his truck cab between shows. Saturday, he had driven six hours from Cherry Springs, Pa. to compete in Stony Creek.
Nearby, Chris Henning of Walworth, N.Y. watched other timber-sports athletes on the field rip through timber with crosscut saws, the kind lumberjacks used 140 years ago to fell giant trees in the Adirondacks. He's a competitor across the northeast U.S. In the 2014 Lumberjack World Championships held recently in Hayward Wisc., he placed fourth in underhand chop and sixth in the crosscut saw event.
(Continued on Next Page)
Prev Next
Vote on this Story by clicking on the Icon