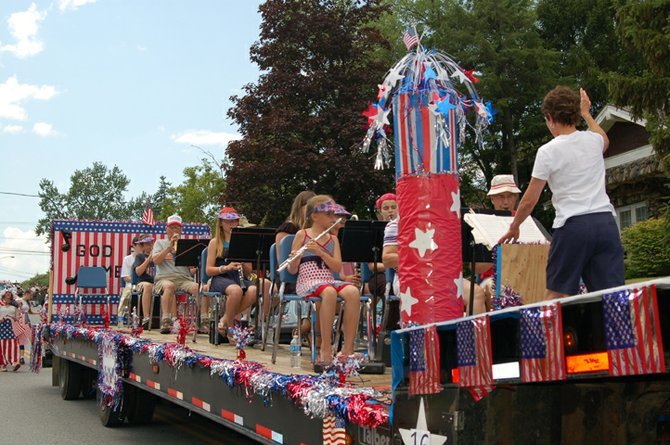 continued — "The bands that perform in the parade and at the park are all being paid except for the band from Fort Ticonderoga," Barber said. "A lot of people think that the town is paying for this or that the bands are volunteering, but they are not. One of the biggest things that we hear from the community is that they want more music."
Barber said bands can range up to $3,000 for an appearance fee. Along with the bands, the committee also pays for the annual fireworks show, which can run from $17,000 to $18,000.
"We do get a $5,000 donation from the town and Alonzo Fireworks is giving $1,000 in donations to the show," Barber said.
Recently, the Best Fourth in the North raised over $1,100 in a pair of events held April 5 in the annual alumni basketball tournament and guest bartender night at The Pub.
Along with fundraising events, the committee has also sent out a fundraising letter and parade application to local businesses with varying sponsorship opportunities as well as an appeal to bring more community groups into the parade.
"We are looking for more floats from the community and more people to participate," Barber said.
Along with parade participants, the committee is still seeking nominations for the Grand Marshal (which will be accepted through the end of April) and local bands and vendors who would want to participate in the festivities.
For more, contact the committee through the Ticonderoga Area Chamber of Commerce at 585-6619 or chamberinfo@ticonderogany.com.
For information on the Best Fourth in the North, visit the web site best4thinthenorth.com.
Vote on this Story by clicking on the Icon