I was driving past the farm in Chazy thinking about a friend who passed away. The sunny skies had turned to rain, while I was on my way to his funeral service. It's not where I wanted to be, but where I had to be. No one wants to attend a friend's funeral. My respect for the man would not let me stay home.
It was about 8 years ago; maybe more, maybe less. It really doesn't matter. Part of my conservation job at the time was to walk the farm to check for any hazardous products on site that needed to be discarded properly before an easement went through.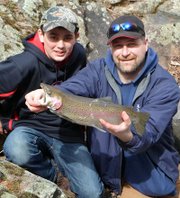 On this farm I had about a mile of stream bank to walk and I needed to do both sides of the river; half a day's cruise through brush, vines and tangles along the river. I looked forward to being outside.
I have walked a hundred farms in my day and have seen the usual junk piles along stream banks. Plastic jugs, old cars, hay wagons and the usual collection of "I can't get rid of that" steel collections on stone walls that every farmer has. "It may be useful someday" is what is usually said.
This farm was different though. After walking a stretch of river, I found nothing, no junk, wasted wagons or tires to show the presence of humans. What I did find was a river that was a stream walker's heaven. Between those tree lined shores, I found a wildlife sanctuary that was unbelievable. There were wood ducks, mallards and other birds. Fish, frogs and many other forms of wildlife all lived within or near the waters. Grassy lined banks in some areas, along with Black Willows, Red Maple and other riparian trees and shrubs held the banks together. Clear water was feeding Lake Champlain.
(Continued on Next Page)
Prev Next
Vote on this Story by clicking on the Icon
More like this story