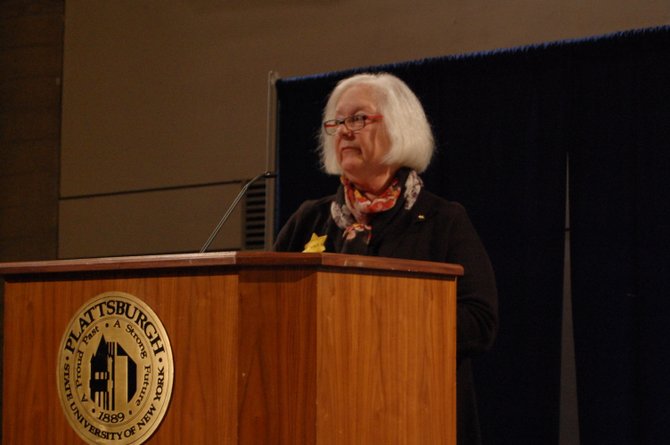 continued — At six months old, her family was ordered to move to Amsterdam from Haarlem. The Germans planned to place all the Jews in Amsterdam in custody, and then deport them to the concentration camps of Auschiwitz and Sobibor.
One neighbor, Thelma, joined them and moved to an Amsterdam attic bringing only a camping stove, a mattress and a crib, with the attic containing one sink, one toilet, one tiny window and a table with chairs.



At the table, Lawrence-Israels and her brother learned to read and write by playing games with their mother, keeping their minds off of what was going on outside.
"If my mother had seen there was a beautiful day, nice sunshine, she would say to us, 'Oh children, the weather beautiful, if only I could take you to the park and let you play outside.' My brother and I would have said 'Park? Park? What is a park?'" Lawrence-Israels said. "If she wouldn't have explained it, we would've missed it."
Without knowing about their parents, grandparents, cousins or best friends, her parents kept their composure and their children safe and fed on the inside until something happened on the outside in June 1944.
Lawrence-Israels' father went outside one day, then came back and said, "There might be an end to this crazy war and this crazy occupation because I just heard the news that the allied forces have landed in Normandy."
The family commemorated this day on Lawrence-Israels' second birthday.
In a black and white photo taken by a trusted friend, Lawrence-Israels sits on an old, antique doll chair in her new birthday dress made from her mothers' old blouse, holding a doll made from rags by Thelma. Next to her feet, crammed into shoes several sizes too small, sits her brother's pull horse.
"My best present was my brother's pull horse, but he did say that it was just for today and I had to give it back," Lawrence-Israels said. "It was all right. I was happy."
Vote on this Story by clicking on the Icon