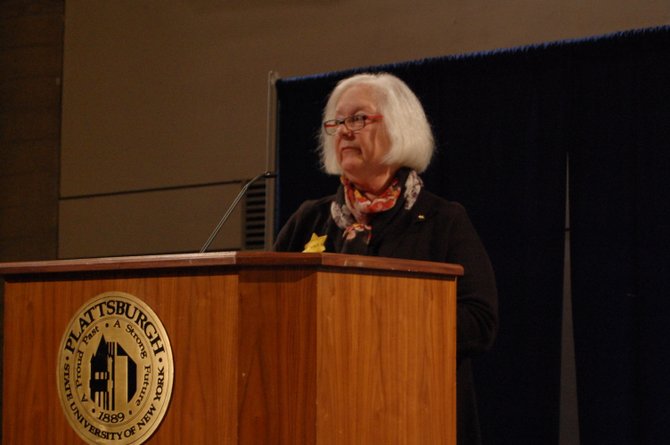 Plattsburgh — A dusty attic in an Amsterdam row house kept the Israels family away from Hitler during the Holocaust.
"The Holocaust is not a controversial issue," said Louise Lawrence-Israels, a survivor. "The Holocaust happened."
Lawrence-Israels, volunteer for the United States Holocaust Memorial Museum, visited SUNY Plattsburgh March 31 and told her story about hiding from German forces for three years.
"I feel like I have to tell my story because we were part of that, and my parents were part of that," Lawrence-Israels said. "I feel that it's my obligation."
German forces invaded the Netherlands in May 1940 and set up a German administration. Trying to prevent this, Lawrence-Israels' father was stationed at the Southern tip of the Netherlands in, blowing up bridges to prevent the Nazis from entering, but the Nazis came by multiple boats, soon overrunning the small country.
During this time, each Dutch family had to register and get identity cards. Jews got the letter "J" across their card. With this card, they could buy necessities once a month. However, the Germans left just enough so the Dutch wouldn't starve.
Kicking down doors, the Nazi's took homes from innocent people, in many instances forcing them to live in their basements. In 1941, Jewish businesses were confiscated, and Jewish people became segregated from the Dutch.
After a year of this, anti-Semitic laws were established near Lawrence-Israels' birth in 1942, a time when she took the name of Maria instead of Louise.
Jews were forced to wear a yellow star by one of these laws.
During her speech, Lawrence-Israels took out a copy of her father's yellow star and placed it on her blouse. While turning, she stated how wearing a star was different than wearing a scarf or jewelry. It couldn't be removed.
"You couldn't take that risk because the worst part was that you didn't know who you could trust," she said. "There was a price on every Jews head."
(Continued on Next Page)
Prev Next
Vote on this Story by clicking on the Icon