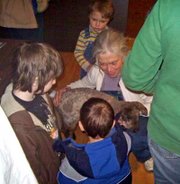 Activities and events in the hills
The Children's Easter Party will be held Saturday, April 12 from 1 to 3 p.m. at the Thurman town hall. There will be egg coloring, crafts, the traditional basket raffles and remember — there will be an Easter bonnet contest. As always, there will be a delicious assortment of foods to munch and the children's favorite, the fruit punch will be offered. To volunteer setting up or to find out more information please contact me, Kathy Templeton, at 623-2967.
The county-sponsored senior bus service to Glens Falls runs twice a month on the second and fourth Friday. The next scheduled trip will occur on April 11. The service will pick you up at your home; to arrange pickup contact Laura at 623-9281 by April 9 with directions to your home and she will make sure you are picked up.
The Sugar Loaf Seniors group will be holding their next monthly meeting Wednesday, April 16 at 5:30 p.m. Membership is still only $10 per year. For more information, call Norma Galusha at 623-9425.
The Thurman Quilting Group holds their meetings at the Thurman Town hall every Monday. This week's session occurs March 31 from 6:30 p.m. to 8:30 p.m. Light refreshments of tea or coffee are offered. For more information, contact Myra at 623-2633.
Over the fence
Now is the time to begin collecting and pricing goodies for the annual Thurman Townwide Sale, to be held May 16, 17 and 18. As always, the tiny planning committee asks for your help. If you plan to sell, please be sure to mark May 1, 2 and 3 so you don't forget to register your sale with volunteers between 2 and 6 p.m. Not only does the committee rely on your $3 donation to help fund printing and ad costs, but your signing up helps us show garage sale fanatics how many sellers Thurman will have that weekend, and what enticing wares are for sale.
(Continued on Next Page)
Prev Next
Vote on this Story by clicking on the Icon