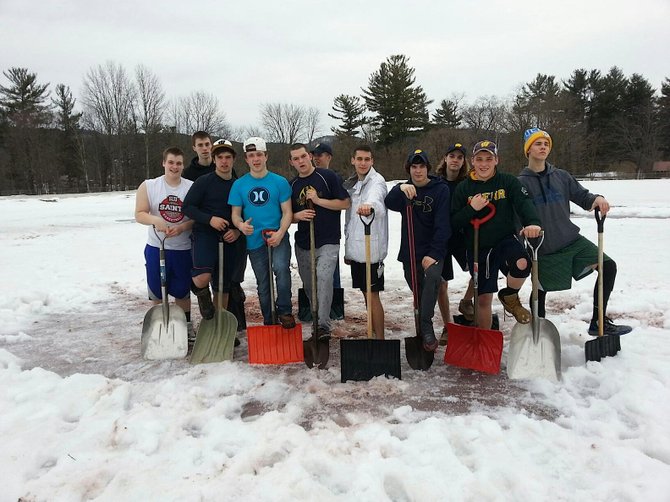 WARRENSBURG — Lingering winter weather has caused ballfields in northern Warren County to remain covered in snow, curtailing outdoor practice for area high school ball teams — and downsizing the season's schedule dramatically.
Most baseball and softball teams in the Adirondack League will be playing 11 sanctioned games this season, rather than the 16 that had been scheduled — playing each team in the league once, rather than twice. In addition, the Adirondack League championship will be determined by the best season record rather than a playoff of the top teams.
Meanwhile, team practices have been held in gymnasiums rather than outside, with the ballfields covered with up to several feet of snow, area coaches said early this week.
Warrensburg High School's baseball team has perhaps the most dramatic problem with snow. The high school baseball field, located behind the school, is surrounded with tall pine trees which block the sunlight from melting snow during the few warmer days experienced here in the early-spring weeks, Varsity Baseball coach Rex Reynolds said April 6.
"We don't have any real hopes of playing on our baseball field until the third week of May," he said, noting that even if the snow cover melts soon, there's bound to be too much mud for practice and games. "There's snow two feet deep remaining, with ice underneath — and the snow is up to three feet deep in left field."
In the meantime, games — which are now scheduled to start Wednesday April 23 — are to be played on the Junior Varsity field behind Warrensburg Elementary School.
Practices have been held inside the high school gym, with a batting cage, and six hitting stations complete with with pop-up nets and batting tees and a mock infield set up for some throwing and catching drills. The baseball team has also been concentrating on strength and conditioning work, including running up and down stairs and through the hallways of the elementary school.
(Continued on Next Page)
Prev Next
Vote on this Story by clicking on the Icon