LAKE GEORGE — When most teenagers head home these days after studying in school all day, they relax with a video game or another form of recreation.
Not Nick Perrone of Warrensburg High — he heads into the woods behind his home to collect maple sap, check lines of his vacuum-operated sap-collection system, and perhaps split some wood and boil down some maple syrup for sale.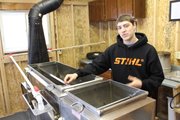 Perrone, 18, operates his own maple syrup production enterprise on Truesdale Hill Road, and some say he may be the leading maple entrepreneur of his age in the state.
He now is tapping 500 trees — a considerable expansion from his prior two years in maple syrup production.
March 29, Perrone gave a tour of his sugarhouse and outlying facilities as he collected sap and readied his evaporator and other processing equipment for the heavy sap flows expected over the next few days.
"I mix tradition with efficiency," Perrone said as he showed off his wood-fired evaporator with a turbocharged firebox he fashioned to provide for even, consistent heat under the sap tank.
"There's something special about maple syrup that's been boiled down over a wood fire," he added.
The modern aspects of his setup include a clear filter press for maximum purity and convenient monitoring, Perrone said as he emphasized he'd be seeking blue ribbons for his syrup's taste, clarity and quality at upcoming competitions.
Behind his house, his "sugar bush," or the stand of maple trees he outfits with 260 taps, is spread over 30 acres. Some of the land belongs to neighbors who are helpful in his enterprise, he said. Perrone also has about 260 other trees tapped in plots several miles away between Warrensburg and Lake George. Perrone plans on processing about 1,000 gallons of sap per day this year. To transport the sap back to his sugar house, Nick has outfitted a one-ton dump truck with a 300-gallon sap tank.
(Continued on Next Page)
Prev Next
Vote on this Story by clicking on the Icon