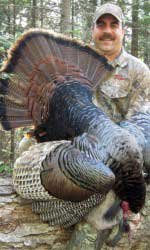 I'm always yelping about buying local if possible, so when I found out about Mountain Hollow Game Calls, I knew I had to meet these guys.
During my walk through the Yankee Sportsman's Show, I chatted with a fellow that had a display table set up. As a hunter, I am always interested in turkey calls, and the Mountain Hollow Game Calls booth was a bit of gobbler heaven. After buying three of my favorite mouth calls, one being an Orange Raspy Hen, I got talking to some of the staff.
In short time they introduced me to Ken Hammel, the owner and head of the family owned, local business out of Potsdam New York.
Originally, the business venture was located in Altoona, Pennsylvania, by Ken and a friend. However, after Ken's friend passed away, it was time for a change. Ken was offered a pastors position in Saint Lawrence County, so Ken, his family, and the business moved to Potsdam. This was a rare happening; a company moving into NY. It seems; most move out. (Things haven't changed. Now we have to wonder about the Remington Arms Company in Ilion moving to Alabama).

Now after 32 years, the Mountain Hollow boys still produce many handmade calls. The company is small compared to nationally known companies like Primos. But Ken says they are big enough, sometimes too big. The pro staff assembles many of the calls themselves, and the big seller is the Double Talk Extreme; glass over slate friction call. The glass gives a crisp sound and the slate, a mouthy raspy boss hen turkey talk. (Reminds me of a few old big mouth co-workers of mine, all talk)!
I'm a big fan of the raspy sound. I have killed a few gobblers when they came strutting in to what they thought was gonna be a little romantic interlude, only to find an old Remington Model 11 pointed their way.
(Continued on Next Page)
Prev Next
Vote on this Story by clicking on the Icon