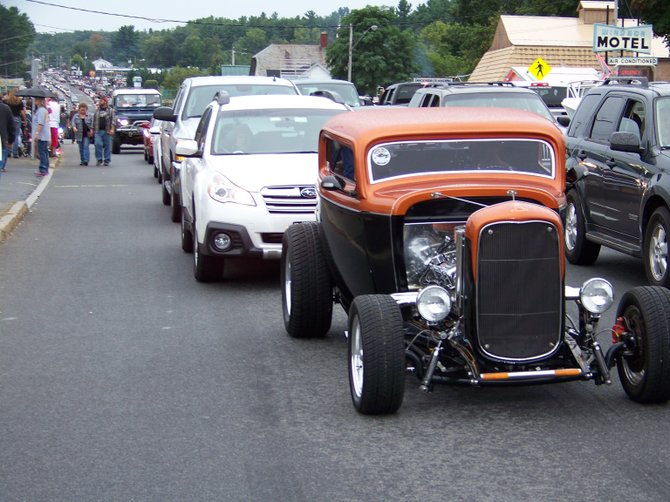 continued — However, the predominant problems, Blais said, are not with the Adirondack Nationals exhibitors or club members, but with the non-registered hot-rodders that flock to Lake George for the weekend.
The Mayor added that the two parades scheduled by car show officials were launched several years ago with the intention of solving the problem of the dozens burnouts which threaten public safety — and are officially prohibited at the event. He noted that show officials are posted nightly along the parade route, ready to revoke the registration stickers from drivers who spin their tires, and these sentries are empowered to ban the rule violators from participating in the show for three years.
But despite the prohibition, 2013 hosted a record number of burnouts, which can be seen on a dozen or so You-Tube videos. The most graphic of the videos is named "Lake George Burnouts 2013" and was posted by James Baxter.
It was also noted that Battlefield Park was damaged by apparent tire-spinning episodes.
Village board member Joe Mastrodomenico said that owners and managers of shops and restaurants in the village reported that while the nightly parades of show cars were being conducted, retail activity all but ceased due to their stores being inaccessible. He suggested re-routing the parade down Beach Road and from its present route down the length of Canada St. from the north end of the village to the southern end.
Parking shortage looms, solution sought
Blais also observed that in 2014, the immense crowd in Lake George for the car show — as well as the other major local events — will be incurring another problem: lack of adequate public parking.
In 2014, 588 parking spaces that existed this year will be gone: about 500 temporarily in use in the Charles Wood Park, and 88 others in the lot behind Giuseppe's Restaurant where the proposed multi-story Marriott Courtyard Hotel is to be built.
Vote on this Story by clicking on the Icon