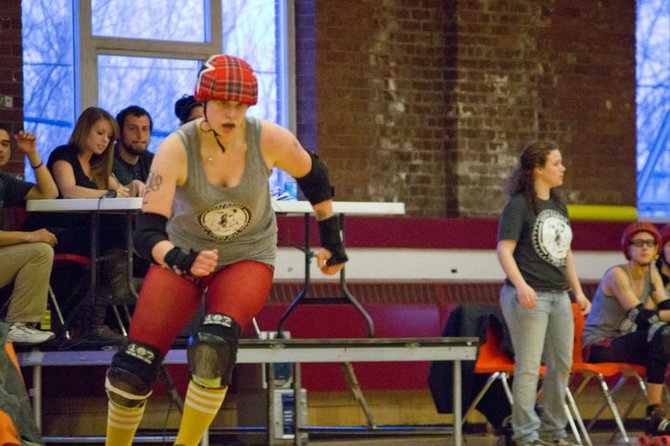 Eat. Sleep. Funk is a ska-funk band.
Cover charge will be $5. For more information call Smoke Signals at 523-2271.
Aqueous to perform at Monopole
PLATTSBURGH — Aqueous will perform at Monopole, 17 Protection Ave, on Sept. 28 at 10 p.m.

Aqueous is a funk-tastic groove, rock and jam band known for bringing high energy shows. They deliver their performances with catchy songwriting, shredding guitars, tight infectious grooves, and spot on improvisation.
Mike Gantzer on guitar, vocals, Dave Loss on guitar, keys, vocals, Evan McPhaden on bass, Nick Sonricker on drums and vocals.
For more information about the band visit their Facebook page or go to their webpage at http://www.aqueousband.com.
Lumberjills bout with Buffalo Alley Kats
PLATTSBURGH — North Country Lumber Jills Roller Dery team bouts with Buffalo Alley Kats, City Recreation Gym, 52 U.S. Oval, on Spe.t 28 at 6 p.m. $
Plattsburgh Roller Derby's the Lumber Jills are 7-2 this season and are looking forward to facing the Queen City Alley Kats who are 0-4 this season on Saturday September 28th at the Back to School Bout!
"The team is working hard to prepare for what looks like our toughest match up of the season. We are excited for the challenge and are looking forward to entertaining our home supporters," said team captain Lizzie Gerard, known as Bertha Victory.
The bout will take place at the Plattsburgh City Recreation Center on the U.S. Oval.

Doors open to the public at 5 p.m. with the first whistle at 6 p.m. The halftime show will be performed by Reality Check, an organization dedicated to expose the tobacco industry's manipulative and deceptive marketing practices.
Stop by the North Country Food Co-Op, and Conroy's Organics, or http://www.brownpapertickets.com/event/319314 to buy tickets in advance for $10 children ages 6 to12 are $5, children 5 and under are free; general admission tickets are $12 at the door on the day of the event.
The North Country Lumber Jills donate to local non-for-profits during each bout. For our Back to School Bout, the Lumber Jills will help Bailey Avenue School. The president of Plattsburgh Roller Derby, Erin McGill also known as Teachy McKill, is a teacher at the school and it is a cause close to her heart. At the bout, there is an opportunity to participate in a 50/50 raffle where all the proceeds will go to Bailey Ave School in Plattsburgh.
For more information go to PlattsburghRollerderby.com.
Vote on this Story by clicking on the Icon