continued — Blue Mountain Lake
In Blue Mountain Lake, Hamlets 3 proposes building a new hotel on Adirondack Museum property, across the highway from the museum.
"We've got a couple alternatives for this new sort of cultural/recreational hotel development," Trancik said, adding that the museum includes a lot of property beyond the museum campus. "So we're showing how trail systems can be connected to wilderness lakes, and they want to put a boat livery on Middle Pond. There are a lot of different ideas that fall under this."
The hotel concept is not a museum project, according to Adirondack Museum spokesman Todd Happer. However, the museum could provide assistance in making land available and designing uniquely Adirondack features, such as exhibits and programs for hotel guests that interpret the region's history.
Long Lake
In Long Lake, the Hamlets 3 proposal shows a rendering depicting the proposed Jennings Pond Park. The plan proposes a nodal system of traditional Adirondack-style gazebo-decks at the water's edge linked by a nature trail. The nodes provide resting areas, fishing spots, educational plaques and small boat docking.
"We've developed a scheme for increasing the variety and level of activities in the open spaces," Trancik said. "It's a circular trail system, what we're proposing, and small boat access."
Au Sable Forks
"Au Sable Forks has got a very special problem," Trancik said. "Hurricane Irene wiped out a huge part of that hamlet, so we're showing how they can expand very close to the hamlet, still within walking distance or a short drive, on to higher ground."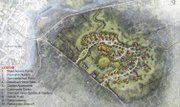 The project in Au Sable Forks will show a new residential cluster or what they call a "pocket neighborhood" development above the flood plain.
The Rolling Hill Mill Road site offers a variety of housing types enabling diverse income levels and multi-generational living arrangements, according to the plan.
Vote on this Story by clicking on the Icon