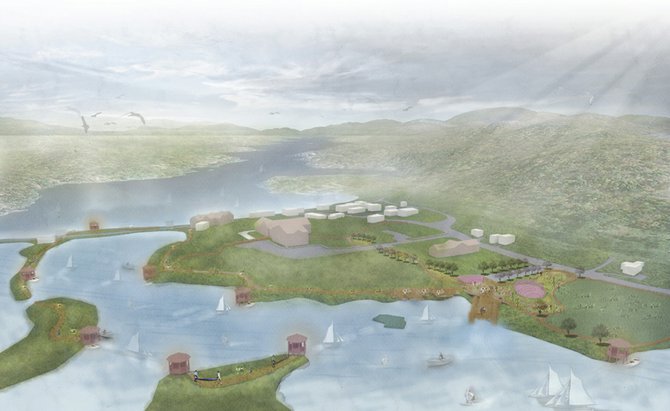 continued — "In other words, we're trying to put the book into action," Trancik said. "The upcoming workshops are the final series of workshops in those hamlets."
With the help of community leaders, Trancik has identified specific sites in each of the five hamlets to develop a project based on the principles and the planning model they developed in the first phase.
"Each hamlet has a very different set of problems and conditions, and we're trying to illustrate that," Trancik said. "You know these principles can apply in a lot of different contexts given the regulatory environment in the Adirondack Park. There are a lot of possibilities for sound, sustainable economic investment and good planning and design that can help these communities in the future."
The overall goal of the second phase is to "revitalize and empower Adirondack hamlets through direct training and example."
Caroga Lake
In Caroga Lake, an illustration of the Hamlets 3 proposal show a view of central green space toward the historic carousel, lakefront and reused dance hall. A proposed hotel is to the right of the carousel.
Indian Lake
In Indian Lake, the Hamlets 3 proposal includes extending the 'T' intersection of State Routes 28 and 30 into a crossroads and channeling growth northward toward Adirondack Lake.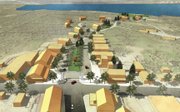 "This design creates an attractive greenway or boulevard leading to new housing development and a new Adirondack Lake public beach," states the proposal. "This design opens future opportunities for more growth along the new corridor while still concentrating the highest density at the hamlet core."
The main goal in Indian Lake is to create an improvement district in the hamlet center.
"Indian Lake has this problem of vacancies at the intersection," Trancik said. "So we're trying to show, by redoing the infrastructure and extending the infrastructure in a way that could generate new development sites for residential, how that, along with commercial revitalization, in these vacant buildings."
Vote on this Story by clicking on the Icon