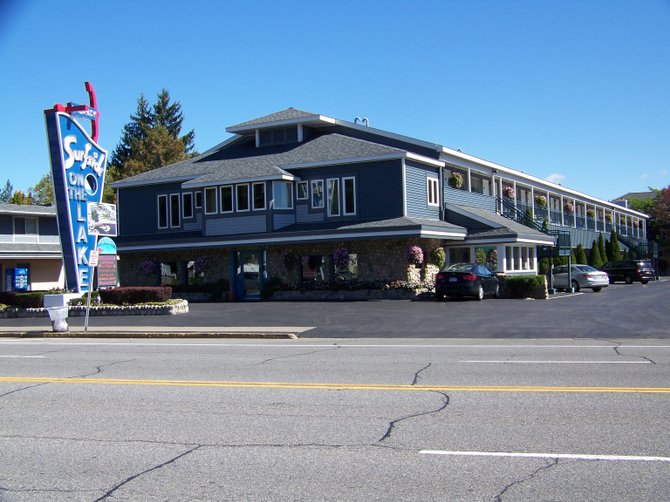 LAKE GEORGE — The owner of Surfside Hotel, situated on Lake George, is seeking a variance of village zoning laws to build a six-story, 72-feet-tall structure in a zone that now allows three stories maximum.
This request by Salim Amersi is to be considered in a hearing at 7 p.m. Wednesday Oct. 2 before the village Zoning Board of Appeals. The meeting is to be held in the village offices.
The structure, to incorporate a two-story parking garage with four stories on top containing 60 hotel rooms, would replace the motel's central building that extends toward the lake from just behind the hotel office. The existing central building houses 50 rooms.
Amersi said Sept. 25 that the project has an estimated cost of $7 million to $8 million.
The western side of the building — facing Canada St. — would be five and a half stories high off the ground, as the first floor of the parking garage would be set into a slope.
Amersi's application cites that the hotel needs the new modern rooms as well as on-site parking — and complying with the 40-feet maximum would require him to build a fully underground garage — at a price of $2 million — which would not be financially feasible.
In addition to the height extension, Amersi is seeking a Zoning Use Variance, as the village does not allow parking garages to be built in the Commercial Resort zone in which the hotel is situated.
Surfside is between O'Sullivan's Motel and The Georgian Resort, which is across Canada St. from Lake George High School.
Citizen activist Joanne Gavin, who issued emails Sept. 25 about the proposed zoning variance, said the building was far too tall, would obstruct views and would change the character of downtown. She said that the recent village zoning law changes — which include extending the three-story maximum to six stories on the west side of Canada Street — purposefully excluded the east side, to retain views and the preserve the character of the village.
(Continued on Next Page)
Prev Next
Vote on this Story by clicking on the Icon